Cal Lutheran hires Senior Associate Director of Athletics, Holly Roepke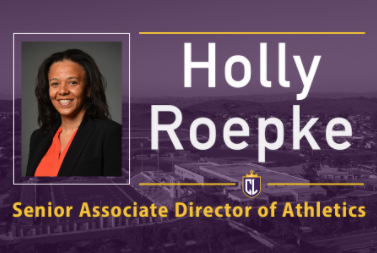 In July of 2021, California Lutheran University hired alumna and former student athlete Holly Roepke as the Senior Director of Athletics.
"It was one of my goals to get back here [Cal Lutheran University] after I realized what my purpose was, my professional track, it was absolutely a goal of mine to come back. I consider Cal Lu my home," Roepke said. 
Roepke said that she was hired to oversee diversity, equity, inclusion and student success and she believes it is a crucial component for the work that needs to be done at Cal Lutheran. She is always in the process of making the connections and doing the work in her department and in other places on campus with the other diversity, equity, and inclusion professionals in a committee on campus. 
"To me, it is one of the best jobs in the world. I get to do what I love and be around inspiring people that help me further my purpose," Roepke said. 
Roepke said that her favorite part of her job is interacting with the amazing and inspiring  professionals around campus, integration with the athletic programs, working with inspiring coaches, and students. 
"Part of the job is to continue to make it the best environment for everyone. For our coaches that serve our student athletes. I am super excited to be able to support students, our coaches, and the work that they all do. To be able to help students identify their purpose and passion, and to give them pathways to build a career and life that they are hoping for," Roepke said. 
Roepke said that she had a career before she was in Athletic Administration and that even when doors kept closing she continued to follow her path. She believes that all her past jobs helped her to gain the experience that she needed to be here at Cal Lutheran.
 "There is no question that I was meant to do this work and in my mind I was always meant to do it here," said Roepke. 
Athletic Director Daniel Kuntz says that Roepke has experience working at Division III universities  and understands the Division III philosophy of sport and education. 
Kuntz said that Roepke's job is a big role and she serves on a variety of committees on campus. She oversees compliance, group of the coaches, sports information, work with all groups and individuals as needed, and helps to forge the vision of athletics for the future at Cal Lutheran. 
"I think she [Holly Roepke] brings a sense of understanding of all persons and an aspect of patience that is really important when working with young people and a variety of different issues," Kuntz said. 
Kuntz said that he was Roepke's soccer coach for four years so it was an honor to have her accept the job and have her here.
"She [Roepke] loves the University. She knows the mission of the University. She is focused on our students and has the best interests of all people. We [Cal Lutheran University] are just very lucky," Kuntz said.