Kingsmen pick up where they left off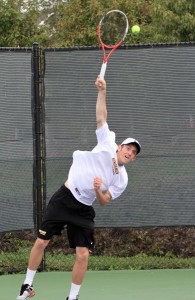 Regardless of playing singles or doubles on the court, the team camaraderie of the CLU Kingsmen tennis team has never been stronger.
Currently ranked No. 11 in the nation, coach Mike Gennette holds the standards of his team high. Entering his 20th year of coaching, Gennette said that he is looking forward to having an experienced team, seeing what the seniors are capable of, and the influx of new talent.
Of the six starting players, four are currently All-Americans. Two of them achieved this title while at California Lutheran University, and two while attending junior college. This is the first time this has happened for this team.
The Kingsmen finished last year's season ranked fifth in the nation.
"There is a good chance the team will match and exceed last year," said Gennette.
This looked probable during  Saturday's match against Chapman University. Held at CLU's Poulson Tennis Center, the Kingsmen defeated the Panthers 8-1. The domination started early in the morning when all three doubles teams excelled. The No.1 team of Ray Worley and Alex Nichols won 8-2. The No. 2 team of Thomas Millet and Marcelo Sousa, both international students, also won their match 8-2. The No. 3 team of Connor Treacy and Nick Jacobs won 8-6.
Worley continued to shine on the court during his singles match, winning his first game 6-1 and his second game 6-3. Fresh off a knee injury, Worley emphasized the importance of the team's relationship with one another. In his final season at CLU, the first seed player said he is looking forward to spending it with the guys on the team.
Sophomore Connor Treacy agreed with this teammate.
"As a team, we are going to be the best this year," said Treacy
Treacy dominated on court three, winning both games 6-1. No. 2 player Nichols, a transfer from San Diego Mesa Community College, with 6-0 and 6-1 wins, determined the outcome of the match. No. 4 Millet won 6-1 and 6-3.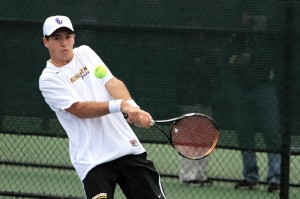 Gennette considers Millet to be a valuable asset to the team, having been a strong leader last year, and he expects it from him again this season. Jacobs also got a win 6-4 and 6-1 on court five.
Sean Handley, a freshman from Santa Barbara, had an intense singles match on court six. After losing his first game 4-6, and winning his second game 6-4, Handley entered a 10-point tiebreaker. Putting up a fight, Handley fell 10-5.
A common goal among the team is to stay healthy. Having several players coming off injuries, such as tendonitis, Gennette looks to balance injury prevention with conditioning. The team dreams of achieving a national championship and looks forward to traveling to Minnesota on Wednesday, Feb. 20 for the Intercollegiate Tennis Association National Indoor Championships. There they play against seven other nationally ranked teams.
For more information on the CLU tennis team, go to www.clusports.com/mens_tennis.
Caitlin Dimmitt
Staff Writer
Published Feb. 6, 2013