Content creators balance responsibility between work and school
Content creator, as defined by Adobe, is someone who creates educational or entertaining material to be expressed through any medium or channel. 
Youtube videos, TikToks, photography, movies, animations, and many more are all examples of content creation. Junior Aminata Sissoko is a content creator who focuses mainly on fashion and food related content.
"I would say usually outfit pictures, you know those Instagram outfit of the day pictures, that's what I usually do," Sissoko said. 
Junior Asa Rasmussen's fame kicked off before they started college through a video that went viral on TikTok. Their profile, which currently has 178.6 thousand followers,  started as a complete accident. In 2019 there was a trend involving furries, people who put on an anthropomorphic animal suit and took on a 'fursona', in what can best be described as an internet war. 
"I downloaded it to watch that, I did not think anyone would see my videos, and then they did," Rasmussen said.
And people certainly did see Rasmussen's videos. Their profile currently has 7.4 million likes. That exposure ended up having side effects that were not expected by Rasmussen, like being recognized in public spaces like school.
"I did not expect to come to college and have people [recognize] me, that was weird. Like three people came up to me during freshmen orientation and they knew who I was," Rasmussen said.
It was not all bad, it paved the way for Rasmussen to be able to make friends, something they did not think they would have been able to do if not for their TikToks going viral. 
"I'm very shy, so I have no idea how I would have been able to make friends if people did not approach me," Rasmussen said. 
On the other hand, Cal Lutheran has proved to be a bit of a roadblock for Sissoko, as she believes it would be easier to garner more followers if she attended a larger school.
"I feel like if I went to a bigger school I would get more exposure," Sissoki said. 
Her sister, Hannah, who attends UCLA, was recently featured in a video that went viral and led to her receiving more attention.
"Hannah got so many followers, the video got half a million views…literally from one TikTok, this one TikTok so I'm like girl imagine if you do that every week," Sissoko said.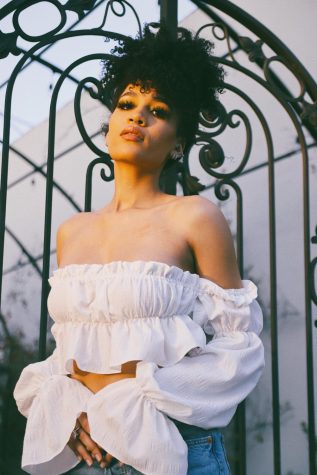 While both post different types of content, there is one thing that they both prioritize over their content creation: school.
"Maybe for three or so years I was very careful about having a schedule, uploading on time, checking what time of day I'm uploading so that you reach maximum engagement, but honestly, I am a junior, I have two full time jobs, I don't really have time for that," Rasmussen said.
Regardless of what content one creates, there is that mutual understanding between these two that, while this is a job, there is still an education to obtain.
"I'll put school first, always, so I'll be lagging and won't post for a week or so just because I've been so busy," Sissoko said. 
Content creation through the lens of social media is not an end all for either one of them, as a matter of fact, both would delete Instagram, the app helping them to be seen, if they could. 
"If I was not doing modeling, I would not have Instagram, I'm not really a huge fan of Instagram," Sissoko said. 
"I really would love to delete Instagram, but for both modeling and TikTok I am like required to have it for communication, which sucks because I am kind of forced to be super engaged for a job, when I don't need to be," Rasmussen said. 
To see Rasmussen's content, check out their Instagram and TikTok accounts @aespup. To see more of Sissoko's content, visit her Instagram account at @aminataawasissoko and her TikTok at @aminataawa.