The 2021 Swim and Dive season has kicked off at Cal Lutheran
The California Lutheran University swim and dive season officially kicked off on Oct. 8 at Pepperdine University's Raleigh Runnels Memorial Pool.
"Our men's team ended up winning and our team ended up with three swims that resulted in our top 10 times," senior swimmer Athena Alexander said in an email interview.
Junior swimmer Kyrie Fairbairn said in a Zoom interview it was fun to have a completely normal meet without masks.
"It was nice to have a full meet with a full team and be able to be on the bus together," Fairbairn said. "The team spirit was really great and I felt like everybody was really pumped up to be back together and everyone was cheering at the end of each other's lanes."
Fairbairn said when the team was meeting during COVID-19, spectators were not allowed and there were less people competing at the meets.
Alexander said it has been challenging going back to competitions and having a more rigorous practice schedule.
"I get anxious getting up on the blocks to start competing just from not doing it for the past year. Thankfully, we do a ton of practice starts during our practices to get us more comfortable," Alexander said.
AJ Nybo, Cal Lutheran graduate student said this season has one of the best team attitudes he has seen, especially since the team has missed out on a full year of swimming.
"Cal Lu did a good job of being proactive and really trying to make it so we could swim last year, which we were definitely thankful for," Nybo said.
Nybo is in his fifth year competing on Cal Lutheran's swim and dive team.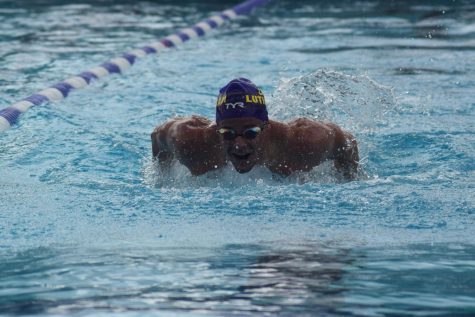 "I know some other schools in the SCIAC didn't even have pools open and students weren't allowed to swim on campus. For us it was nice to have the pool open at least."
Nybo said the biggest meet last year was between Cal Lutheran, Redlands and Chapman. This year the first meet of the season had 10 teams competing.
"For a lot of people, it's their last chance to swim so we really have the drive this year and we probably have one of the best teams in our history," Nybo said.
Nybo said the goal for the season is to win and do everything as a team. 
"I think overall it builds a good community where we all feel comfortable pushing ourselves harder than we could by ourselves," Nybo said.
Personal goals have also been set for swim and dive team members according to Fairbairn.  "I would really like to see one of our women's relays break a school record," Fairbairn said.

"One of our team goals that has held true throughout my time at Cal Lu is the idea of having one team. Nobody competes by themselves, and one person's success is all of our success," Fairbairn said.
Fairbairn said there is one new transfer and three new freshman girls on the women's swim team.
"There are 10 new swimmers on the men's swim team consisting of a variety of transfers and freshmen," Nybo said.
Alexander said the team will have competitions almost every weekend in November. There will be a hold on competitions in December and they will resume in January.
The following meet will be at Samuelson Aquatics Center on Sat. Nov. 6 at 11:00 a.m. against California Institute of Technology.