Cal Lutheran hires new Strength and Conditioning Coach, Brent Roling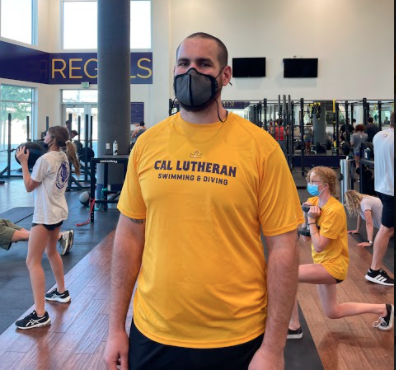 California Lutheran University hired Brent Roling in the fall of 2021 to be the new strength and conditioning coach.
In a phone interview, Roling said that he currently works with the following sports teams at Cal Lutheran: football, women's volleyball, men's water polo, men's and women's swim and dive, men's and women's basketball, and baseball.
"I pursued the nutrition side in my academics and tried to learn everything that I could from an exercise science and practical applications standpoint from my strength and conditioning program itself," Roling said. 
Roling said that in order to see adaptations, people have to focus on developing a diet plan that works and supports those adaptations. Nutrition is a lot more involved than what people think in the field of strength and conditioning. It is important to note that it depends on what type of workouts are done, if a person is an athlete or not, age, gender, genetics, etc. 
"My favorite part of working at Cal Lutheran is getting to work with the student-athletes, it is the part I love most about my job. It is an incredibly dedicated population of people and it is inspiring to me," Roling said. 
Roling said it is cool to be able to work with athletic teams all throughout an off-season and then go to their games and watch their changes in performance. It makes the athletes realize how strength and conditioning, as well as proper nutrition makes them better at their sport. 
"My goals with the student-athletes is to make them the best possible athletes they can be while keeping them the healthiest and performing at a high level throughout their career at Cal Lutheran," Roling said.
Roling said he hopes that every athlete that he has coached knows how to take care of themselves after athletics from a nutrition and training standpoint because they have learned something about their individual bodies. 
In an email interview with Coordinator of the Forrest Fitness Center Maddy Griess, she said that she is motivated by Roling's hard work and energy that he brings in day in and day out. 
"Brent has a great passion for the work that he does. He is fully committed to the betterment of student-athletes and that shows in his attitude and the effort that he puts into his work," Griess said.
Griess said that Roling is able to give the student athletes he works with confidence and motivation to want to put in work in the weight room. The student athletes know that Roling cares and believes in them which helps them build a successful partnership with him. 
"Brent is dedicated to helping them become the best athletes that they can possibly be, and that dedication shows in his time commitment and the quality of his work. He takes on each day with a great attitude and embraces the privilege of working with the student-athletes here at CLU," Griess said.
In a phone interview with Athletic Trainer and Strength and Conditioning Coach Carlos Gonzalez, he said that when working with athletes, he and Roling share each other's expertises in the field and work as a team. 
"I think that Roling is passionate and committed to the teams. He always comes in to work with a good attitude, and tries to give the student-athletes every possible tool they can have in order for them to succeed," Gonzalez said. 
Gonzalez said that Roling is very personable and professional in the strength room. Roling always tries to have the student-athletes that he works with have a positive mindset and to be able to learn from their experiences.
"It has been a pleasure to work with Roling. Roling is an excellent addition to the team. I look forward to my working relationship with him," Gonzalez said.