'What a leader should be': Regals basketball Mackenzy Iwahashi begins her final season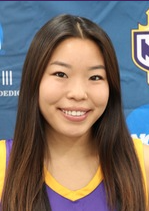 Senior women's basketball athlete Mackenzy Iwahashi from Granada Hills, California is entering her final season at California Lutheran University. She said that she is very excited for this season.
"Even though I have another year of eligibility, this will for sure be my last season playing this game," Iwahashi said.
Iwahashi said that she is going to put in her best effort as she is the team's leader this year.
"This year's team is very young so it is essential to evolve chemistry and instill discipline that will help us win games," Iwahashi said.
Iwahashi is confident that her team is ready after the pandemic. Although the team only played five games and practiced for half of a regular season, they were fortunate enough to play during the pandemic.
"It's still definitely a transition though as half of our team was not able to have their senior season in high school," Iwahashi said.
Iwahashi is very thankful for the fact that out of all the Southern California Intercollegiate Athletic Conference (SCIAC) teams, Cal Lutheran and University of Redlands were the only ones that were able to get on the court and have a season.
"It is all about adjusting and getting back in the swing of things, but I think the coaches and upperclassmen have been very helpful with the transition into the new season," Iwahashi said.
Iwahashi hopes that her game this season should bring energy every second of every game. Iwahashi said she is willing to give 100 % effort and sacrifice her body to win a SCIAC championship this year.
"I want no regrets, so I need to give it my all throughout the whole season," Iwahashi said.
According to Iwahashi, there is one thing that people might not know about her, which is that she tore her ACL back in 2017.
"I also played Sabrina lonescu in the State Championship the year before and we won," Iwahashi said.
Kelli DiMuro, head women's basketball coach said that Iwahashi has great work ethic and is highly grounded in everything she does. She never gets rattled and continues to push herself day in and day out.
"Iwahashi loves the game of basketball. She is willing to do what it takes to win a championship in her senior season," DiMuro said.
For DiMuro, Iwahashi is a strong character leader and a role model on and off the court. As she is a 3-point threat and can get inside the lane with ease, DiMuro wants her to run the show at the point guard position.
"It's time Iwahashi should take risks and enjoy every second of her senior season," DiMuro said.
Assistant women's basketball coach Melissa Sanchez in an interview said that Iwahashi is tough, mentally and physically.
"She is smart and has proven to her team that they can trust her," Sanchez said.
Sanchez feels that Iwahashi should be an All-Conference Player this season.
"Her positivity and selflessness sets the tone of what a leader should be," Sanchez said.