Win over Pomona keeps playoff hopes alive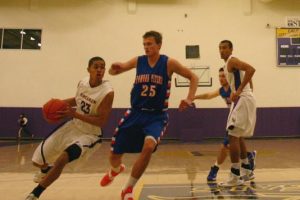 The Kingsmen basketball team displayed sharp shooting and pure determination as they pulled off the upset against Pomona-Pitzer on Saturday, avenging a two-point loss to the Sagehens earlier in the season.
The Kingsmen were in control for much of the first half due to excellent three-point shooting.  Back-to-back three pointers from senior forward Jayvaughn Nettles and freshman point guard Dan Wade put the Kingsmen up 10-5 after the first four minutes of the game.
With 5:22 left in the first half, consecutive three pointers from Michael Palmer, Martin Flowers and Corey Quintana increased their lead, 28-19.  A late layup by freshman forward Guy Lynott brought the score before halftime to 34-27. With sophomore forward Jeremy Sulker-Hall out for the season, Lynott, like his freshmen teammates, was called to step into a bigger role.  In his first start since November, Lynott finished with a career high 19 points and four rebounds.
"I had a lot of positive support," said Lynott.  "They've called on us freshmen before, so I just had to go out there and give it my all."
The Sagehens opened the second half on a 12-0 run, led by scores from Michael Cohen, John Weiss and Jake Klewer.  However, a three pointer by Wade, who finished with 14 points, and a layup by Lynott ended the Sagehen run and tied the game at 39-39.
Down 45-49, with 8:41 to go and the game on the line, the Kingsmen looked to their senior leader, Nettles, who completed a layup and got the foul, bringing the Kingsmen within one.
"I just wanted to come out and play as hard as I could," said Nettles.  "As a senior, I've got three games left now and I just want to leave everything I can out on the court.  I want to be there for my team whenever they need me."
With 6:21 left in the game, Lynott sank two crucial free throws to give the Kingsmen a 50-49 lead.  Following this score, the game saw six lead changes before a jumper and a couple of free throws by Wade secured the 59-56 victory over the Sagehens.
"I couldn't have asked for a better game from these guys," said Nettles, who finished with seven points, six rebounds and three steals.  "We've been in many, many close games all season and we finally got to pull out one."
The Kingsmen once again showed off a solid defense, holding Xavyr Moss, the Sagehens' second leading scorer, to zero points on the night.  Pomona's leading scorer Kyle McAndrews, who averages 15.7 points per game, finished with just 10.
"We had a great week of preparation," said Kingsmen assistant coach Geoff Dains.  "Anything they ran, we were prepared for, and our guys executed and knocked down shots."
With this win, the Kingsmen keep their playoff hunt alive.
"We're not mathematically out of the SCIAC tournament playoffs.  We've just got to keep our focus, keep playing with a purpose and keep striving," said Dains.  "The destiny is in our own hands and we kind of want it that way.  We still have a light at the end of the tunnel to play for."
The road ahead for the Kingsmen will not be easy.  They will play their last home game against Redlands, the No. 1 team in SCIAC, and finish off their season on the road against La Verne and Chapman.
"We've got to win these next three games, which is very possible," said Nettles.  "But we're going to take it one by one.  We're just living in the moment."
Jase Magarifuji
Staff Writer
Published Feb. 13, 2013