Regals Tennis split weekend matches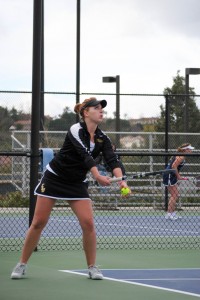 Temperatures dropped during the Regals tennis team's two home matches this weekend.
On Friday, the Regals battled Hope International from Fullerton, Calif., and won 5-0 in a match that was shortened due to rain.
With stellar play from Cal Lutheran's doubles teams, each pair earned a victory. The No. 3 pair of sophomore Jacqueline Ramsay and Lauren Toohey coasted to a convincing 8-0 victory.
It took a little longer for the No.1 and No. 2 pairs to come out on top, but both won 8-3 and 8-4 respectively.
In singles play, sophomore Sarah Baker carried in her momentum from doubles play and won the No. 2 singles match in straight sets 6-1 and 6-1.
Toohey continued her dominate play by stopping her opponent from scoring a single point in either set. She won the No. 6 singles match 6-0 and 6-0.
With Cal Lutheran up 5-0, and the other matches still going on, the rain hit and the matches were cancelled for the rest of the day.
With the sweet taste of victory still lingering in their mouths, the Regals headed into Saturday ready to take on their arch rivals, and nationally ranked No. 24 Redlands Bulldogs, in their SCIAC opener.
"What I told them to do is to trust themselves, trust their shots and to basically just know that they're good players and compete with Redlands," said head coach Vanessa McPadden.
However, Redlands rolled past them 9-0 and handed them their first loss in league play.
In the singles matches for the day, Redlands rolled tide on the Regals' No. 3, 4 and 5 players with 6-0, 6-0 wins. Redlands also beat the Regals' No. 2 and No. 6 positions 6-1, 6-2.
In the battle of No.1's, freshman Emily Werman put up a tough battle as a rookie, but ultimately lost the match falling 6-2, 6-3.
In doubles play, the Regals' No. 2 pair of senior Carly Mouzes and junior Lindsay Murphy and the No. 3 pair of Ramsay and Toohey were both overpowered and swept 8-2 in their matches.
The freshman-sophomore No. 1 pair of Werman and Baker hoped to carry the momentum from their victory Friday into the match, but came up short and lost 8-4.
The young pair did have some bright spots during the game and still have a bright future ahead of them as a duo.
"I think me and Sarah both played an aggressive game," said Werman. "We started off a little slow in the beginning, but as it progressed we started to get more aggressive, consistent. We went for our shots, and I think overall our game was pretty good towards the end."
"I like playing with Emily as doubles and I would like to continue doing that. We work well together and communicate well," said Baker.
McPadden spoke highly about the duo and looks forward to seeing their careers at CLU progress.
"Our No.1 player Emily has really stepped up and is playing well. Our No. 2 player Sarah is also very good," she said.
The Regals will be back in action on Friday, Feb. 15, when they play host to non-conference Biola at 2 p.m.
Matthew Bowman
Staff Writer
Published Feb. 13, 2013