Bulgarian painter mentors CLU students for a month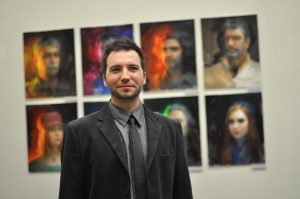 "Wow," "Amazing" and "Dang, he's good" are just a few of the many phrases uttered while students walked by watching Ignat Ignatov work.
Ignatov certainly is drawing attention while working in the Soiland Humanities center on campus. Throughout each day he will be painting a number of portraits that have vibrant, colorful and uniquene qualities to them. Ignatov will be painting and mentoring students during a month-long residency at CLU.
Ignatov grew up in Sevlievo, Bulgaria where he began attending art school starting at age 13. He spent five years of academic training learning drawing, painting and sculpture art.
"The art school was focused on an atelier-style education, covering the essential fundamentals," said Ignatov, who now mainly works with oil paint and does facial portraits and figurative paintings.
"It was important to develop a thorough understanding of various artistic applications and techniques," Ignatov said.
Ignatov was able to make the move from Bulgaria to the United States by using the proceeds that he made from the sale of his work in 1997.  Not only was that a big step in his career, but Ignatov was also able to become a U.S. citizen when he moved to California.
Ignatov has gained many awards during his years of school. He has collected nine national and international awards since 2005 from highly recognized art associations such as Oil Painters of America, Salon International and the International ARC Salon.
"In France we have many museums that have very prominent and famous paintings," said Thomas Millet, a transfer student from Montpellier, France.
"It's really interesting to be able to see such a fine artist from Europe at work right here on campus at CLU," Millet said.
Ignatov  is putting in a great deal of time on molding the minds of young and aspiring artists. Ignatov began teaching painting classes in 2005 at the Los Angeles Academy of Figurative Art.
Ignatov grew up drawing a lot and always knew he wanted to become an artist.
When asked if he has a favorite painting, Ignatov said, "I don't really have a favorite painting, because I'm constantly looking at paintings by various artists. So my favorite painting isn't one particular piece, but more of a compilation of works by different artists. That compilation always changes."
His favorite type of artwork is representational, varying from tight realism to loose and expressive depictions.
It isn't every day where you get to see well respected painter working right in front you as you walk to and from class. Ignatov will even take moments from his work and answer questions or give tips to art students who try and draw along side him.
Ignatov welcomes anyone who wants to watch his painting process. Ignatov will be painting and teaching through March 2 in the Soiland Humanities Center.
Nicholas Ballou
Staff Writer
Published Feb. 13, 2013