Rainn Wilson hires CLU student for internship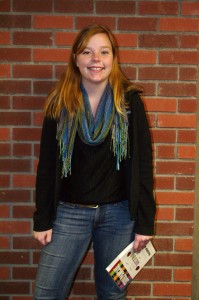 CLU junior Allison Westerhoff, a communication major emphasizing in public relations and advertising, is currently working as a social media intern at a small, up-and-coming company known as SoulPancake.
SoulPancake is a multi-media outlet that encourages people to ask questions they would otherwise be too embarrassed to ask. It was founded four years ago by Rainn Wilson of NBC's "The Office", with the help of his friends Joshua Homnick and Devon Gundry. By November 2010, the site had 50 thousand active members and an average of one million page views per month, according to SoulPancake.
"I thought it was interesting that both of the institutions she was working for- SoulPancake and Cal Lutheran- have similar missions, in that they are both asking big questions," said Jean Sandlin, assistant communication professor.
Sandlin said Westerhoff's self-motivation and passion for what she does not only helped her land the internship, but also helps her enjoy her tasks as a social media intern.
"Even though everybody says life is short, my philosophy is actually that life is long and you should be doing something that you love," said Sandlin. "If you're doing something that you love, it doesn't feel like work and you'll be happy."
Wilson recruits interns through partnerships with local universities, as well as through his Twitter account. Westerhoff first heard about the opportunity through Twitter. Her strong presence on the site, as well as her personality and willingness to learn, made her stand out from other candidates.
"She was eager to learn and try and grow," said Correy Stoner, sales and marketing manager at SoulPancake. "She was hired as a social media intern and she's doing a lot more than just social media."
Westerhoff helps manage the company's Twitter account, reaches out to the press, handles PR and recently helped launch the company's creative agency. Her ability to work in different areas of the company has reflected positively at SoulPancake.
"We've had a lot of success in the couple weeks that she's been on board," said Stoner. "Our growth in our Twitter followers and then just engagement in our community in general has grown."
Westerhoff works at her internship an average of 20 hours per week and is not paid for her work, but that does not discourage her from enjoying her time there.
"The environment is so great," said Westerhoff. "It's a really fun and meaningful experience."
Being able to work at a company that seeks answers to the same big questions she likes to ask is something she enjoys, but she said getting to meet Wilson after being his fan for several years exceeded her expectations.
"It's kind of cool because every now and then Rainn stops by and being able to meet him on my first day was a really cool thing," she said. "It has hands down been the coolest thing ever."
Mayra Ruiz
Staff Writer
Published Feb. 13, 2013