Safe spring break spreads 'hype' and 'safe practices'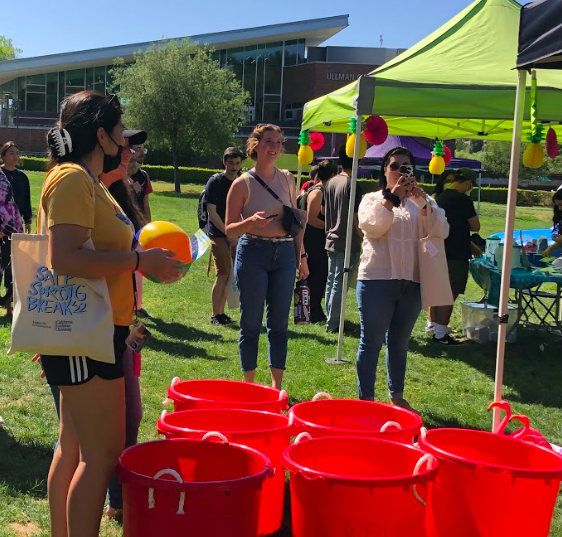 On April 6, Wellness Resources held an event called Safe Spring Break in Kingsmen Park. The event had several booths and games focused on different aspects of health and wellness topics, such as: sexual health, mental health, physical health, and emotional health. Students had to visit each one and collect stamps in order to receive food and prizes at the end.
Junior Cari Monraz, an intern at the Wellness Resources office said the point of the event was to teach students to be smart this break. 
"What we are trying to do for Safe Spring Break, is to get people hype for Spring Break, but also teach them safe practices. So like safe drinking practices, safe sex practices, all of that stuff, so if they do decide to party during this period of time, that they are making informed decisions and they have everything they need to do to be safe," Monraz said. 
Senior Amber Mendoza, another intern at the Wellness Resources office and the main organizer for the event also said that she wanted students to be safe.
"We want students to have conversations on how to be safe while venturing into traveling or maybe risky behaviors, such as drinking or partying," Mendoza said. 
Mendoza also said what she hoped students would take away from the event. 
"I think one of the biggest things that I want from this event is for students to know what the Wellness Center is, and I know it's a tiny little office in the Student Union, but I think the topics that we focus on are really important, especially during college life," Mendoza said.
Senior Lizzi Riker and junior Emma Sweeney, who both attended the event after hearing about it at their work said they had a good time at the event. 
"It looked like a really fun environment to hop on by," Riker said.
Sweeney agreed and said she had learned a lot. 
"Definitely came and got some more information, for sure," Sweeney said. 
Riker said she also enjoyed the stamp aspect.
"I like that they were asking us questions and kind of having us work for our stamps a little bit," Riker said.
This event has been in the works since last semester. 
"All the ideas came from me, past interns, my boss, and coworkers all together, but mainly I've been at the forefront of trying to put this entire thing together," Mendoza said. 
Together everyone, especially Mendoza, had been networking to make the event happen. Mendoza said she had been in contact with professors on campus and outside organizations, such as Planned Parenthood. With so many parts at work, Mendoza said that she had been a little stressed out not too long ago. 
"About two weeks ago, it was a very nerve wracking feeling 'cause it was like, 'oh my gosh, nothing is paid for, nothing is ordered' etc. etc., but now I'm very excited to see it all come together," Mendoza said. 
Monraz said that this was the biggest event done by Wellness Resources this academic year. Monraz said the office is just trying to be more available to students and their needs and wants.
"The Wellness Resource Center is really trying to make a name for themselves on campus, we're trying to change the way students view wellness. We're not necessarily saying 'no, don't do this, don't do that' like an abstinence education program, which is not effective at all, we are saying 'if you choose to take part in these, at least make the most informed decisions possible'," Monraz said.