Ramay's love for football takes him abroad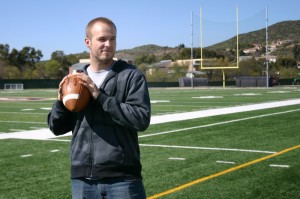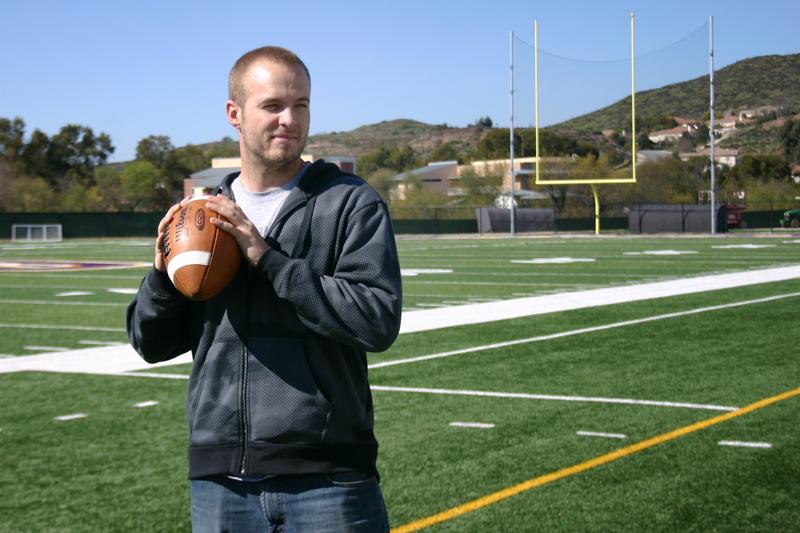 Fresh off a winning season plagued by injury, Kevin Ramay is turning his dreams into realities.
After breaking his thumb in six places during the Kingsmen's Oct. 6 football game against University of Redlands, the starting quarterback was uncertain if he would ever see the field again.
"There was a lot of confusion. Guys were unsettled. He was still there supporting us though, which made the transition easier," said James Emma, a senior starting defensive lineman, who also suffered injuries throughout the season. "It hurts not being out there with your team, but when you get back out there, it makes it better because you miss the game."
By season's end, Ramay was back on the field, with a plate and screws in his hand. Although he had lost grip strength, he continued training to achieve an opportunity to play the sport he grew up loving.
Ramay was a four-year starter at Grace Brethren High School in Simi Valley, Calif., where he was selected for the All-State team. Following high school, he attended Willamette University in Salem, Ore., where he started 10 games. He eventually decided to come closer to home and finish college at California Lutheran University.
Continuing with his career, Ramay recently signed a six-month contract to play football for Berlin Adler in Germany. The team has won six German Bowls and is in a league that has the highest level of American football in Germany. When deciding what team to sign with, Ramay had a criteria to meet. He wanted a Division I team located in a large city, as well as a detailed contract that covered housing, transportation and salary.
The German Football League is designed similarly to the NCAA, with different divisions separated by five regions. There are three different levels of play, determined by factors including finances and facilities. Berlin Adler has been playing among Germany's Division 1 teams, known as Bundesliga, since 1978. They were demoted to Division II in 1998, but only stayed there for three years.
"The biggest factor to me signing in Germany is the schedule I wanted. Germany's schedule fit my schedule the best, along with the fact that Germany has the most competitive league. At first, Germany's schedule didn't fit well because their season starts in late April and I had already enrolled in classes for my final semester at Cal Lu. I would not graduate until May 18 and that was far after the date they wanted me to arrive," said Ramay.
Luckily for Ramay, he was able to work something out with Dean of Students Bill Rosser, who was extremely excited for the opportunity he was presented with.
"We worked out a way that I could take online classes from other colleges that would allow me to go at my own pace while still graduating from Cal Lu. I will not walk at my graduation, but I will still graduate," said Ramay, a business administration major, with an emphasis in economics.
Ramay was recently acknowledged for his work in the classroom when he made the SCIAC All-Academic Team.
Senior wide receiver Eric Rogers described Ramay as a "competitive player and vocal leader."
"He always wants to win. If things aren't going his way, he will try harder," said Emma.
Ramay's passion for sports doesn't stop on the field. After completing his football career, he hopes to achieve an MBA and enter a career that incorporates both sports and business. Until then, Ramay looks forward to a new country, new culture and new experiences.
"This is an opportunity that I will never have again," said Ramay.
Caitlin Dimmitt
Staff Writer
Published Feb. 27, 2013