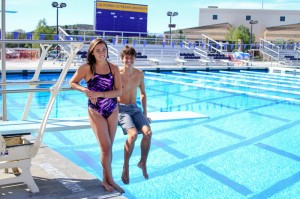 That's a wrap! The Cal Lutheran men and women's swimming and diving teams swam their final meet the weekend of Feb. 17-19, in La Mirada, Calif.
As the fans filed out of the stands, the pool deck sat quiet once again after a tremendous season of success for both the swimmers and divers.
Senior swimmers Kyle Eckhart, Brooke Hubbard, Cortney Jordan, Chase Miller and David Sparks took their last picture together after their final meet. Sadness fell over them as they realized that their final season had come to a close.
"These past four years have been incredible," said mid-distance swimmer Jordan.  "Each year we have only gotten closer as a team, and I am so proud to have been a part of it. I will miss my teammates more than anything. They have become more than just my teammates. They are my best friends and my family."
Jordan, a Paralympic swimmer, was part of some of the most notable performances this season.
She set a Paralympic American S7 (disability swimming classifications used for categorizing swimmers based on their level of disability) record in the 200-meter backstroke with a time of 2.39.88 and was only one second from breaking her own record in the 200-meter butterfly at 2.46.69.
Alongside Jordan, senior teammate Hubbard finished 30th in the 100-meter free preliminary for her final collegiate individual race, which she found bittersweet.
"A part of me was happy that the season was over, but other part was sad that that was the end of my swimming career," said Hubbard. "I have been swimming my whole life and these past four years went by so quickly. I already miss it. But I feel extremely accomplished that I was able to tough it out and last all four years, which seems to be a challenge in college sports."
A question that is often posed to collegiate athletes is whether or not they will continue on with their sport post-university. Sparks believes swimming will continue to play a prominent role in his life.
"I am definitely going to continue swimming after I graduate because it is a big passion of mine," said Sparks. "I actually plan on coaching water polo for a couple of years after graduation, so it's safe to say that I will be on the pool deck for years to come."
Underclassmen swimmers are proud to send their seniors off on their way as they venture into the real world in late May.
Junior Alvina Wong believes the legacy and hard-working mentality of the senior team members will continue on for years to come.
"Through all the yards we swim, all the weights we lift and all the cold 5:30 a.m. workouts we go through, regardless of the toughness, we suffer as a team and that's what brings us closer," said Wong. "The seniors this year were all so different yet so similar, and they all played important roles on our team and kept us motivated to face our tough training."
Being the only male diver to make the trip to the podium in the final meet, sophomore Ryan Brem shared his advice to young teammates on how to stay focused and relaxed.
"Clearing your head is the hardest part of diving. I just try to take a breath and only focus on one thing that I have to do to execute my dive well," said Brem.
He believes that as long as a diver has passion, they will succeed.
High school and now college teammate of Brem's, junior diver Sheyenne Machida, believes her passion for diving has been the key to her continual success. She looks forward to being a senior next year and carrying on the success.
"Senior year is when you go all out. It will be the last time I will get to prove myself and I don't want to go out with any regrets," said Machida. "For the dive team specifically, during the off season, I think we will need to lift more weights and gain core strength in order to be able to bring some new big dives to the podium next season. I don't doubt that next year another great season is ahead of us."
Abby Sturgeon
Staff Writer
Published Feb. 27, 2013