The perseverance of Spoon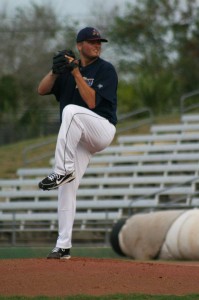 He went on many baseball trips in 2012, but the flight from Texas to home was his last.  After spending the summer in Texas playing professional baseball with the McAllen Thunder, CLU alumnus Spencer Trygg experienced the closest equivalence of a death sentence in professional baseball.  He was released.
Last year was a year full of let downs for Trygg on the baseball diamond.  The Bay Area native had a rough senior season with California Lutheran University, was passed up in the Major League Baseball Draft, clawed his way into professional baseball with a non-MLB affiliated independent league team and was released before the end of season.
If I were Trygg, thoughts of quitting the game would've rushed through my head on that plane ride home.  That's a lot of negativity to go through, regardless of the sport or profession.  Spoon, as Trygg's friends call him, had a different approach.
He believed that his release was a blessing in disguise.
"I've never thought about quitting," said Trygg.  "That plane ride home was actually the moment I made the decision that I was going to make baseball work, no matter what."
Instead of letting his failures break him down, Trygg decided to use them as fuel.  His status of not reaching potential and being overlooked had chased him throughout his baseball career, starting as a senior in high school when he didn't receive much attention from colleges.  All the failures and being overlooked put a chip on his shoulder for training this offseason.
"I have a lot of people to prove wrong," said Trygg. "I've never had a coach that has completely trusted me."
Now fast forward to present day, and there is a new Trygg, found lifting weights and throwing bullpens at CLU.  Equipped with a new pitching coach, arm slot, workout program and confident mentality, Trygg has reinvented himself over the last five months.
Trygg knew he had to approach the offseason differently.  He hadn't built much of a resume.  After not having an impressive senior year or debut in professional baseball, Trygg knew he had to make adjustments to continue in professional baseball.
Through a referral, he started working with Tom House, a retired MLB pitcher and world renowned pitching coach who has worked with numerous MLB pitchers.  Many call House the "Pitching Guru."  He holds a pitching camp each week during the offseason at USC, consisting of professional pitchers training for their upcoming season.  The group focuses on pitching mechanics, weight training, mental training and nutrition.
For the last five months, every Monday, Wednesday and Friday Trygg left his Thousand Oaks apartment around 7 a.m.  to make the trek to USC to work out in the camp, where they trained for three hours.
Trygg caught the interest of many MLB teams and professional Japanese teams, who have watched his bullpens and simulated scrimmages at House's camp.
Before you make the assumption that House's connections are the only reason Trygg is getting looks, consider that he's been clocked at 95 miles per hour this offseason, and sits consistently in the low 90s, with much better control over his pitches than he's ever had.  To the non-baseball readers, that's very fast and very good. But the perfect underdog story still is not a complete success.  While many minor leaguers are on their way to spring training, Trygg still hasn't inked a new contract with a team.
"It's hard working with those guys for five months, watching them all leave, and not be a part of it," he said.  Trygg plans to head to Florida to throw in front of MLB scouts, or possibly go back to an independent league.
I'm stoked for what the future has to offer for Trygg, but I'm biased.  He's been my teammate and friend my entire time here at CLU.  I'm not expecting you to be this guy's number one fan, but take note of what his actions say.  He could've easily given up on baseball, found a good job and ridden off into the sunset.  He also could have lost hope because he doesn't have a team to play for yet, but that hasn't stopped him.
What I see is somebody who wants something better than just good; Trygg wants great.  He's found something in life that he loves to do.  He wants baseball to be called his job, and he's not letting his past dictate what he is capable of out on the mound.  He exemplifies someone who has seen the bottom, but has overcome it and used failures to make him better.  It's obvious that this offseason, Trygg has not only grown as a player but as a person.
Regardless of whether you're an athlete or a student, you can relate to Spoon.  We've all endured our low moments when we've thought about giving up.  This is an example of what to do when we hit those parts in our life.  Take the Spoon approach, as I like to call it.
Next time you think about giving up on what you believe in, think about the guy sitting in early morning traffic on a cold January morning on his way to USC , fighting for the life he loves with a glove and pair of cleats in his passenger seat.
Nick DeLorenzo
Staff Writer
Published March 6, 2013