They weren't afraid to talk about vaginas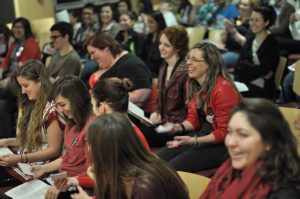 The door was decorated as a pink and red vagina as people walked into Lundring Events Center. They had a choice to pick up a Vagina Monologue pin with different pro-vagina sayings or have a vulva lollipop upon entering.
On Monday, Feb. 25, Feminism Is hosted the Vagina Monologues. These monologues were to inform students about  serious subjects, such as rape and domestic violence. The monologues also included humor and "vagina happy facts."
"So this year was about standing up for something that you believe in," said senior performer Bryana Gable. Last semester I studied at sea and  saw a lot of these stories and read a lot of books about sexual violence. This year, I am standing up at the Vagina Monologues because I have seen and heard stories that people need to know about."
The monologues also touched on the sensitive subject of the female orgasm. Many women are not comfortable speaking about this, but the performers of the monologues made the subject entertaining for people to watch and laugh at.
"I was the woman who liked to dominate women so she pretty much talked about dominating women the whole monologue, and at the very end she demonstrates the different types of orgasms there are, so that was fun," said Gable.
Gable was initially nervous during her monologue.
"The first two orgasms come and then it's silent and I was like, 'Oh no, this is going to go so bad,' and then after I got into a couple ones, people started laughing very hard so it was good." said Gable.
The monologues also touched on subjects concerning sexual violence.
"I direct this show because one in three women on the planet will be raped or beaten in their lifetime. That's over 1 billion women, and 25 percent of college women will be raped in their four years at university. These women need to accept that they are more than these statistics, and the monologues are one way of them knowing that they aren't alone and what happened was not their fault. The audience was great and I think our performers got them to laugh where laughs should have been and be solemn where severities were to be understood," said director Ashton Williams.
This year some of the cast members enjoyed being a part of the Vagina Monologues because it was a new experience for them.
"I felt very honored to be a part of the Vagina Monologues. It was very intriguing to me because I had never heard of it before this. What inspired me to do it was the idea of sticking up for women's rights and to become an activist to stop all violence," said freshman performer Paige Pensivy.
The students who attended the Vagina Monologues enjoyed it because they were able to connect on a personal level with the cast.
"The thing that I liked about this year was that the participants share not secrets, but share detailed information about what the Vagina Monologues meant to them," said Miguel Duran, a sophomore who attended the event.
Kikey Aguila Bello
Staff Writer
Published March 6, 2013