Nationally-ranked Kingsmen continue their prowess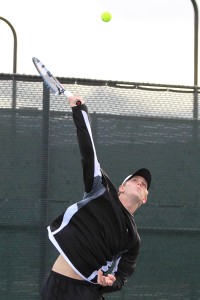 New day, new setting and same result. The Kingsmen tennis team defeated the Trinity University Tigers for the second time this season, 6-3.
"The team is playing dominantly because of the work we are putting in," said senior Nicholas Ballou. "We are putting work in at the gym and on the court. Practice is very structured to make sure every stroke is being worked and practiced. Strategy is really a big thing for us this year. Everyone in our starting six knows how to hit a ball and make a ball. It's all about shot selection and strategy now to help our players win."
Ballou said that the success has been a full team effort.
"Everyone is stepping up in different ways, from being a leader to making sure we each hold each other accountable for the things we do. Everyone is starting to do the little things that make a big difference between winning and losing. Tennis doesn't always get the most respect on a college campus, so we are letting our rackets do the talking and try and earn that respect by winning and our national ranking," said Ballou.
The day started off with doubles play for the Kingsmen, who didn't start off hot. In the previous meeting, the No. 2 and 3 doubles teams came up huge and won their matches. However, this time around they weren't able to do it again.
"Doubles was tough this time around. We played really well against them in Minnesota, but on Friday, they switched their original line up around so we weren't able to play the same team we played in Minnesota," said junior Alex Nichols.
"Playing Trinity twice was rough. They are a great team, and we had to be extra prepared the second time playing them since we knew they wanted revenge from the previous loss," said sophomore Connor Treacy. "We started off very slow in doubles play mainly because, at least for me, I thought the match was going to be canceled all week because of rain forecasts. So when it didn't end up raining on Friday, it took me a little longer to get into the zone."
The No. 1 doubles team of Ballou and Ray Worley played exceptionally well and avenged their only loss of the season.
"We came out sluggish the first time Ray and I played them at indoors, but this time we came out firing and that showed," said Ballou.
The Kingsmen headed into singles play down 2-1, but caught fire and won five of the six singles matches.
Ballou defeated the No. 1 player in the nation for the second time this year.
"Beating the No. 1 player in the nation twice in a row is a big thing for me. Mentally, I go into every match I play thinking I'm number one and if I play my game, I won't lose," said Ballou.
He was the national runner-up last season and is making a strong case to be ranked No. 1 this year.
"I didn't get to play during the fall and earn an actual ranking, so getting to play a bunch of top 10 players in the nation is great to try and prove myself as being worthy of the top spot. But it all comes down to the hard work and training my college and private coaches and trainers have been putting in with me," said Ballou. "I have been and will continue making sure that I push myself and work harder than anyone in the nation, in the gym, with my diet, on the court and in any way to push myself and be the best I can be."
No. 4 singles player Treacy played an exciting close match and then dominated in the third set to win the match 6-2.
"I wasn't worried. Niko [Trinity opponent] is a good player, but my game right now is pretty solid," said Treacy.
Nichols, who played in the No. 3 singles match, also dominated in his match and won in straight sets 6-1 and 6-3.
"I had a tough match against DelaFuente in Minnesota. We played the last day of the tournament so everyone was tired, me especially having played two three-setters the previous days that each lasted 2.5 hours or more. Friday, I was fresh and I played really well," said Nichols.
Nichols, a transfer from San Diego Community College, has been a huge part of the Kingsmen success this year.
He has won a lot of matches for the Kingsmen, earning him a locked position in the No. 3 spot to give them a boost in their line up.
"I think part of the reason why we are doing so well this season is because there is a lot of chemistry," said Nichols. "We all get along and spend time with each other on and off the court. I don't feel like I'm a transfer. I feel like I've been playing here for a while. I chose CLU for a number of reasons: Reputation, strong academic programs, great facilities, a great coach Mike Gennette and it's not too far from home."
Matthew Bowman
Staff Writer
Published March 13, 2013