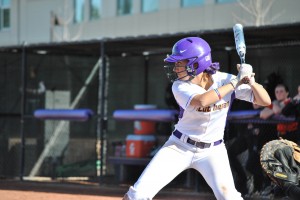 The Regals softball team had their offense fired up all afternoon as they battled the Occidental Tigers on Saturday.
Sophomore Christina Hunter got things going for the Regals in the bottom of the second inning in game one as she doubled over the Tigers' shortstop, scoring senior outfielder Brittany Labbe and sophomore Shonna Christianson.
The Regals continued their onslaught in the next inning as Christianson, senior Shannon Tinsley and junior Kelly Lockwood all crossed the plate, increasing their lead to 5-1. Lockwood capped off the offensive attack with a homerun in the bottom of the sixth, securing a game one 7-3 victory for the Regals.
"Our goal was one run an inning and that's what we tried to do. We get a runner on, we move her over, we get that sac fly and we bring her in," said sophomore and second baseman Ryanna Morua, who finished the day with two hits, five putouts and five assists.  "Our hits, our defense, everything was finally coming together where it needed to be."
Game two featured an offensive dual that took nine innings to decide.
Occidental came out swinging first, scoring four runs in the top of the second to gain a 5-1 lead. However, over the next two innings, Lockwood and junior Kayla Sakamoto both scored twice, bringing the Regals within one.
With the Tigers leading 7-5 going into the bottom of the sixth, Hunter and Labbe both singled, each brought in a runner to tie the game at 7-7.
"We knew that just because those errors happened it wasn't going to affect us and we would bounce back being aggressive up to bat, being a strong defense and putting it all together," said sophomore pitcher Katelyn Downing, who pitched 14 innings all together, giving up only six runs and striking out seven.
The tie held until the top of the ninth, when the Tigers' Patricia Phillimeano came in to score.  The Regals loaded the bases in the bottom of the inning but were unable to bring anyone home, giving the Tigers the 8-7 victory.
"For us to be down five runs early and to keep pushing back, scoring two runs one inning, and two runs another inning, really shows we're on the right track," said Regals head coach Debby Day.  "This is a great group of extremely hard working kids.  Our win-loss record may not show that, but it doesn't mean they don't work hard every day."
The Regals have made noticeable improvements on offense, totaling 55 hits in their past three double headers, with 23 of those coming from Saturday's games.  As the season's midway point approaches, the Regals seem to have hit their stride at the right time.
"I see so much fight and so much will to be out there and everyone is working hard," said Downing.  "I think coming off of this game we're going to go out there even harder, knowing that we can hit the ball. We can play really great defense and our pitching will be there.  It's building us up right at a really good time in our season."
Jase Magarifuji
Staff Writer
Published March 13, 2013