Theater capstone class gets creative in 10 minutes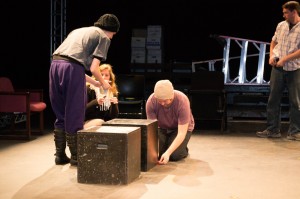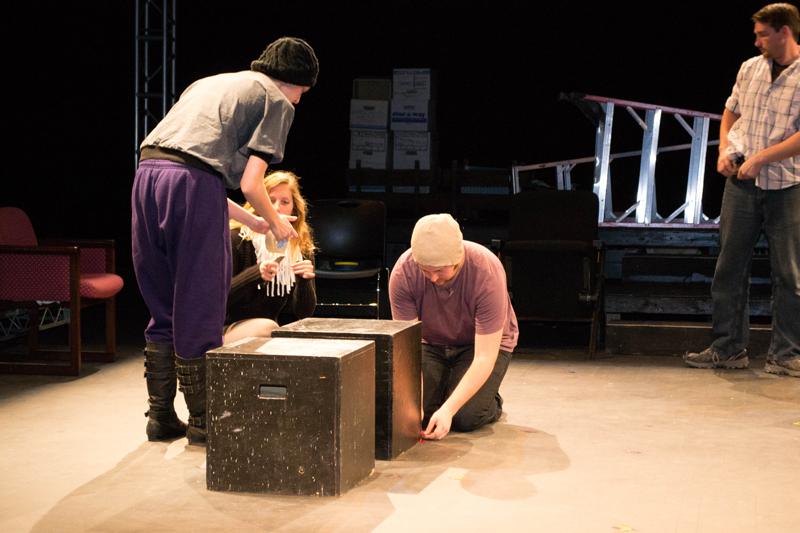 There are plenty of things a person can do in 10 minutes. Take out the trash, maybe eat a quick meal. Watch a YouTube video or hit snooze on the alarm clock.
It's not a lot of time to get something significant done, but the drama department has accepted the challenge and they plan to pack as much as they can into 10 minutes.
The capstone theater class will be self-producing a series of 10-minute plays, working as directors, designers and everything in between for each mini-production.
Drama professor Michael Arndt, the professor for the capstone class, is there to guide students if necessary, but the class is founded around the concept of firsthand experience. Participants take on multiple roles in order to see each play to fruition.
"The class is formed as a production company. They each are assigned to multiple working committees within the company. The committees, in part, include directing, design, stage management, publicity, budgeting and house management," said Arndt.
The capstone class, made up entirely of seniors, is fully producing seven different plays. Collectively called "Seven Stages," they tie in different aspects of everyday life that the class feels the audience can easily relate to.
Senior Ally Crocker enjoys the liberty the class allows her, saying that having the opportunity to take on different roles within the production is preparing her for theater work without the guidance and safety of a professor to rely on.
Rather, the teacher is a mediator.
"He doesn't actively teach us. He sits back and kind of lets us teach ourselves," said Crocker.
Arndt says the experience students are gaining is invaluable to their respective futures in theater.
He believes that a hands-on approach helps prepare and immerse theater students so that they will have an idea of what to expect once they graduate.
"The 10-minute plays provide the students with an opportunity to work collaboratively to solve a variety of challenges, not just with the demands of one play, but with multiple casts, technical issues, organizational structure and much more," said Arndt.
The plays were unanimously decided on by the class based on how well they complement one another and how well they conveyed the message of the show's themes of growth and love.
They're set in offices and living rooms with ordinary people whose actions are typically commonplace.
But according to Crocker, it's the wording, presentation and physicality of the plays that makes them really charming.
"Some of [the plays] can be very fictionalized, but the relationship that you have with the character [is] important," said Crocker.
Senior Brandon Kallen is in charge of overseeing each of the productions.
To him, "Seven Stages" is a physical manifestation of the work he and his peers have put in together over the years.
"The connecting thread through all of the plays would have to be relationships. [They] are based on interaction and human needs. The 10-minute play festival is a culmination of all we have learned through performance and technical classes we have taken and allows us to see a glimpse into the 'real world' of theater," said Kallen.
As the countdown to graduation continues, the class works to present what boils down to the culmination of their college careers.
They may soon be calling curtains on their time at CLU, but they are making certain that they leave a legacy other students can follow and build upon in the future.
"We need to make our theater department's name stand strong. We've made a reputation for ourselves and we want to keep that going," said Crocker. "We're not just some silly actors. We are artists who have a vision, and we want to share it with everyone."
"Seven Stages" will be showing in the Black Box Theater March 14, 15 and 16 at 8 p.m. and 17 at 2 p.m. free of charge.
Christa Price
Staff Writer
Published March 13, 2013