Theatre professor Andrea Heilman nominated for OC Theatre Guild Awards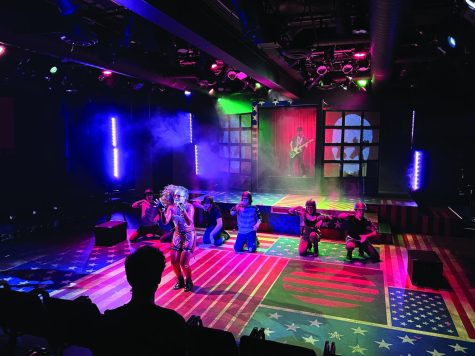 In her sixth year of teaching at California Lutheran University, Andrea Heilman, head of design and production for the Theatre Department, has been nominated for two Orange County Theatre Guild Awards for her work on a production of "American Idiot."
"American Idiot" premiered July 15, 2022, at the Chance Theater in Anaheim, California. Heilman has been nominated for Outstanding Lighting Design and the play itself was nominated for the Outstanding Production award by the Orange County Theatre Guild, according to Heilman.
If Heilman receives this award, this will be her second Orange County Guild Award for outstanding lighting design. Her work on the play "Yellowman" won the award during the 2020-2021 awards.
Heilman said that "American Idiot" represented great cohesive work. The team had to work collectively to represent scenes of actors doing drugs, without actually doing drugs, she said.
"It is nice to be recognized for individual design, but I think it's also really nice to be recognized collectively as a team, and to say, y'all did a really good job working as a team," Heilman said.
According to Heilman, she has designed three shows at the Chance Theater and has done other smaller projects outside of Cal Lutheran, including a "Snow White" play also in Orange County.
"Andrea's scenic design is rigorous, detailed, and collaborative. In our work together, she was 100% invested in bringing theatrical magic alive in young people," said H. Adam Harris, artistic and audience engagement associate at South Coast Repertory, who worked with Heilman on "Snow White" in Orange County.
Heilman said that by working in Orange County, she helps to get Cal Lutheran's name out in the community.
"I think it is nice when students know that their faculty members are doing it. It's one thing to be in the community and doing shows, but it's also important to be in the community having important conversations and giving back," Heilman said.
Other than working on set designs for Cal Lutheran and lighting designs for outside organizations, Heilman said she gives back to the community by doing portfolio reviews at the Guild for Scenic Artists.
The Orange County Guild award nominee said that those who helped her in her journey when she was a student inspired her to assist others in becoming more confident in interviews, in presenting their work and in getting jobs.
"I am very privileged that I get to say yes to things that speak to me and that move artistic agendas that I love," Heilman said. "I think that is where Cal Lutheran benefits from these nominations because I get to bring that into my work."
Heilman completed her undergraduate degree at Macalester University in Minnesota, where she originally wanted to pursue a degree in environmental biology. She said that during her time studying environmental biology, her research from a project she worked on was not used and it helped her realize that she did not want to dedicate her life to using her voice, yet have no one listen.
Following that experience, she took her first lighting design class and said that this is where she discovered that she liked the idea of having the opportunity to visually tell a story through art and theater.
"In the theater, I got to make a world come alive, and you as an audience member were voluntarily entering my brain space," Heilman said.
Heilman went on to earn her master's degree at Brandeis University in Massachusetts. She said she chose Brandeis not only because her work earned her a scholarship, but because there was a wide dynamic range of types of work at Brandeis, meaning she would not be confined to the style of those who would teach her.
After graduate school, before being hired at Cal Lutheran, Heilman worked at schools in North Carolina, The American University in Cairo, Egypt and a sister school of Cal Lutheran in Pennsylvania, Susquehanna University. She also did assistant work for Broadway. 
She chose to work at Cal Lutheran because of its size and location. She called herself a "small liberal arts school girlie," as she attended a small liberal arts college for her undergraduate degree. 
"I like the personal attention that we as faculty members get at Cal Lutheran. To interact and get to know our students helps students succeed more," Heilman said.
According to Michael Arndt, chair of the Theatre Arts and Dance Department at Cal Lutheran, Heilman is a great resource for students.
"Andrea is sort of a spark plug in the department," Arndt said. "She really connects with students and has become a place where students can feel safe."