Students document survivor stories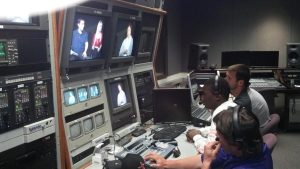 CLU's broadcast news production class is currently working on a project involving interviewing two Holocaust survivors. The taped footage will be used to document, remember and teach.
"It was hot, there were no toilets. It was a terrible circumstance," said Holocaust survivor Clara Knopfler during an interview in the news studio at California Lutheran University. "We went like sheep to the slaughter house."
Knopfler and Michael Mark, another Holocaust survivor, told their stories to the news class on Feb. 28, while being filmed. They also did a short interview prior to that in Knopfler's home in University Village in early February.
David Grannis, professor of the broadcast news production class, said the taped video will serve many purposes.
"We are talking to them about their experiences, about what it was like to be in the concentration camp, what life was like afterwards, and what kind of message they want to get out to everybody," said Grannis.
"As these people get older, they're not going to be around in 10 years to come talk to future generations, so everything that we document now is important."
On top of being a news story, Grannis said that the shorter interview that took place in Knopfler's home will be used for the Yom Ha Shoah memorial service to introduce the speakers when they come to talk in the Samuelson Chapel at CLU on April 11.
"For many years the university chapel has included a Yom Ha Shoah event to remember the Holocaust," said the Rev. Melissa Maxwell-Doherty. "We had a vision that there could be a student project with hope to try to connect students to those Holocaust survivors."
Maxwell-Doherty said that they have Holocaust survivors come to the university every year to speak to students, but this is the first time a CLU class has filmed the survivors.
She said that the main goal of this was not only to connect students to the survivors, but to record their stories so they can be passed on in the future.
The students in Grannis' class are sure that Knopfler's story will have some affect on the other students at the university, as it had an effect on them while filming.
Juliana Rios, a junior involved in filming the interview, said that she got teary eyed while listening to the story.
"When she talked about her 18th birthday and the cakes, I just died, because my parents go all out on my birthday," said Rios.
"The situation was so sad, I couldn't help but tear up thinking about my parents and how they treat birthdays."
Rios thinks this is a great project. It really opened her eyes to thinking about other people and she hopes it does the same for other students.
"We get so caught up in our own worlds, and in our own problems, that we forget to think about other peoples' realities," said Rios. "It makes things in your life that seem difficult at the time less difficult."
According to Maxwell-Doherty these recordings will also be sent to The Museum of Tolerance in Los Angeles, and may find their way to the Holocaust Memorial Museum in Washington D.C.
When the class project is finished, Grannis said it will be posted in the multimedia section of The Echo's website at www.CLUecho.com.
Knopfler has one main goal for speaking about her story, and she hopes that many students will watch it.
"We have to accept that we are different, but we follow the good and not the bad," said Knopfler."I think if we educate the new generation to never forget, and to know to fight against hatred, prejudice, injustice, that's the most important lesson."
Heather Ford
Staff Writer
Published March 13, 2013