CLUTV truck enhances sports viewing experience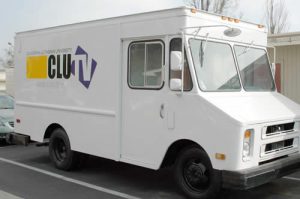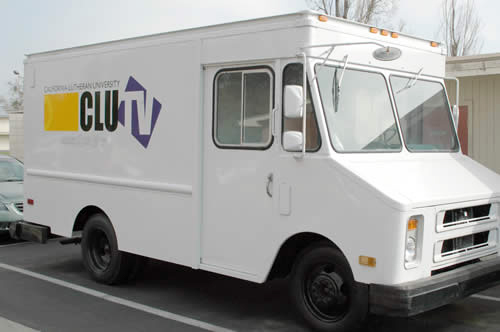 CLU athletics has evolved into a national powerhouse over the past few years. So it's no surprise that many people want to watch Cal Lutheran sports teams compete.When fans go to a game, they will most likely see an iconic, big, white truck parked next to the sporting event's facility reading: California Lutheran University CLUTV.
The truck is responsible for the online broadcast of CLU's baseball, football and softball games and doubles as a hands- on classroom experience for sports production students.
The evolution of the truck is a remarkable story.
David Grannis, assistant professor of communication at CLU, started a sports production class using the truck that was donated to CLU many years ago.
"When I went to UCLA film school for my graduate school, I was the teaching assistant for Bob Trachinger's remote broadcasting class. We filmed wrestling matches, gymnastics at the Poly Pavillion and UCLA baseball games. And I thought that would be a pretty cool class to have at CLU if only we had a truck. Then I saw that truck in storage and started asking if I could use it, and Facilities said no," said Grannis.
But Grannis did not give up.
"They loaned me a van instead and we used the van to broadcast games. So we would have to move all the equipment into the van before the game and it took us hours to set up in there. Then we would have to take everything out and give them back the van. So I really wanted a permanent place we could keep the equipment. So finally after realizing they [Facilities] were not going to use the truck, they gave it to me. But the truck needed a lot of work," said Grannis.
It took about three years and a lot of money for Grannis to renovate the truck so he could use it to record games. Over the years, numerous upgrades improved the quality of the broadcasts. The games also went from broadcasting on local free TV to streaming online.
Grannis was in charge of the truck and production of the games until last year, when he became a full-time communication professor for CLU and left the media department. He was responsible for recruiting his replacement, Glen Rewal, who is excited about the truck.
"Not many universities have a truck, so it's a very unusual thing, but it's also a very beneficial thing for students that are interested in communications or production," said Rewal. "This is a rolling lab. It's a very unique and wonderful opportunity to be able to work in that type of environment without having to go to a television station or having to intern at a television station; the ability to do it on campus and in a non-pressure situation. So it's a very good situation to learn in."
After checking out the truck, Rewal immediately started to upgrade it. He spent a lot of time during winter break getting it to what it is today.
"Without getting too technical, I upgraded the stream line/signal path to the truck so the signals or images that you see on streaming look better and clearer. I fixed some of the systems we had in there because some of them were in a non-operative state, so we got those to be fully operational," said Rewal.
Major additions and updates were also made.
"What people seem to be excited about is our slow motion instant replay, which I call CLU cam. So that not only gives our announcers a more realistic experience, but for the viewer, it's also a much more enjoyable experience. Also, for the production crew, they are getting to learn more positions on a production team," said Rewal.
Freshman production team member Kevin Kunes is impressed with the truck's updates.
"The truck before winter break and the truck after winter break are almost different animals. It's a lot more organized, there is some new equipment and it flows a lot better. What's really exciting is the new slow motion replay technology we have. You can see the live productions that we put on, and it really comes together quite nicely. It makes me proud to be a part of it," said Kunes.
Rewal isn't done and has more planned for the future.
"There's a lot of talk of going HD. Our truck is currently a standard definition truck, which fits the bill for things like streaming. But there is an initiative and effort to try to make all of our productions HD," said Rewal.
To watch CLU sports online, visit CLUtube.com.
Matthew Bowman
Staff Writer
Published March 20, 2013