A CLU tradition comes to an end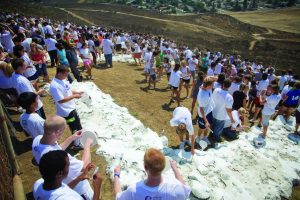 The freshman orientation tradition of painting the CLU rocks  on Mt. Clef Ridge is something that students remember fondly from their first few days on campus. However, beginning next year, the tradition will not take place.
According to Kristin Price, assistant director of Student Life, the purpose of this tradition is to unify the freshmen and transfer students during a giant paint fight.
But with the growing freshman class size, Price said it's becoming harder to get all the students inside the gated enclosure before the paint fight starts. She said more and more students are being left out of the event that is meant to bring everyone together.
Not only is it getting more difficult to manage, but there are increasing safety concerns. The orientation staff worries about students getting paint in their eyes, being hit by stray paint buckets and the possibility of heat stroke.
"I'm very sad. It was a very, very tough decision to make," said Price. "But I think the exclusivity that happens with many students is really unfortunate and I think the safety concerns are the number one things we need to be aware of."
Students with disabilities or injuries cannot make the long and difficult hike up the side of the mountain that the rocks are on.
Because of this, students with mobility issues have no choice but to sit out the event while their classmates bond without them.
Heather Mann, who came to California Lutheran University and worked as an intern with the orientation staff over summer, said that she knows how special traditions are. The fact that there are people who get left out is a shame.
"Inclusivity is a very important part of [orientation]," said Mann. "The largeness of our student population now and…also the awareness of wanting to be inclusive means that traditions have to change."
Despite these issues, current students are sad that the incoming classes will miss out on this experience.
"I think it's disappointing because it's something that a lot of first years remember about orientation," said sophomore Peer Advisor Cecilia Calderon. She said that when she was a freshman, it helped her forget about the stress of moving to a new school and starting college.
"You kinda forget about all that stress and just have a chance to have fun with these people that you're going to spend four years with," said Calderon.
"It's just something that we all share, which is really special," said junior Marilyn Arceo. "They're not going to be able to share that story because they don't have that story, they didn't have that opportunity."
Price and the orientation staff have a few ideas for a new event, but the actual planning will be done during the summer.
"We are looking for an event that will unify 900 students in one spot and help them feel a part of the community within a safe environment," said Price.
She understands students' disappointment, but she is excited to modify the tradition and bring something new to keep orientation interesting and different.
"I think bringing something in new will really enhance the program and enable all students to be a part of that community, in that moment, in that tradition," said Price.
Lauren Blachowiak
Staff Writer
Published March 20, 2013