Kingsmen tame Stags, remain in first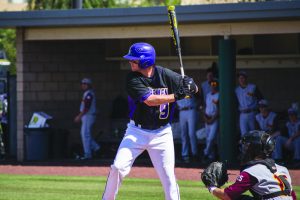 As the clear favorites against the second-to-last place Claremont Mudd-Scripps, the No. 9 Kingsmen baseball team looked dominant Saturday against the Stags.
"I think we talked about it all week, about how this is a team that has had a tough season. It's a team where if you keep them in the game; you can get hurt by them," said head coach Marty Slimak. "It's kind of like a trap game, if you don't play well, they are going to beat you."
Cal Lutheran swept the double header against CMS Saturday. This extended their win streak to eight and furthered the team atop the SCIAC standings.
In the first game of the day, CLU won 7-2 and junior pitcher Tyler Hebda was awarded the victory as the starting pitcher. He pitched 6.2 innings, giving up six hits, two runs and struck out six batters.
Hebda knew coming into the game he could earn the victory if he stuck to his game plan.
"I just wanted to go out there and get ahead of the batters. I watched Jake [Petersen] pitch Friday, and he was getting ahead of guys and it seemed to work out for him. So my approach was to get ahead of guys and throw strikes," said Hebda.
Along with stellar pitching, CLU played solid team defense to help Hebda out.
"The defense behind us is always great, and I have the utmost respect for our defense. They always get the job done, and I know they're behind me 100 percent," said Hebda.
The second star of the game was senior infielder Trevor Koons.
Coming into the game Koons was two doubles away from breaking the CLU career doubles record, which stood at 48. He tied the record in his second at-bat and broke it in his next plate appearance. His 49th double will forever leave Koons' name in the Cal Lutheran baseball record books.
"My dad actually told me about it before the season, that I would have a chance to break it," said Koons. "It's just really good to feel like I made my mark on this school. I've been a part of it for four years, and it just feels really good to have my name up there with the rest of the guys."
Slimak was happy to see his senior shortstop be able to etch his name into the CLU record books.
"Well, he's been around a long time, and they say if you stick around and you get a lot of at bats, sooner or later good things will happen," said Slimak. "So I'm proud of him. He did a great job. Those are records that have been there for a while. So that's a good feat."
In the second game of the day, the Kingsmen took a big lead early on and never looked back. They won 14-3, cutting the game short due to the mercy rule.
"First game, it took us a little while to get going, but in the second game we jumped out early and it worked out well," said Koons.
Sophomore pitcher Scott "Scotty P" Peters pitched a near flawless game. He pitched six innings giving up two hits, one run and struck out seven batters. With yet another great day on the mound, Peters increased his record to 5-0 for the year.
"I just wanted to keep the ball down, hit my spots, and try to be good with all my pitches, and just throw strikes," said Peters. "My defense really helped me out with some great plays."
The Kingsmen (22-6-1) take the field again on Friday, April 12, at George "Sparky" Anderson Field when they host the Whittier Poets.
The game is scheduled to begin at 3 p.m.
Matthew Bowman
Staff Writer
Published April 10, 2013