No. 1 Stags too much for No. 4 Kingsmen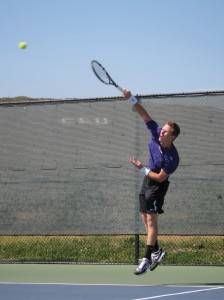 After a 6-3 loss on April 5 against No. 1 Claremont-Mudd-Scripps, breaking their 10-match win streak, the Kingsmen tennis team defeated Whittier 5-4 on Saturday. Ranked No. 4 in the nation, Cal Lutheran has had a successful season so far.
According to No. 1 singles player Nicholas Ballou, a senior from Orinda, Calif., taking spring break off slowed their momentum, but they were still able to pull through.
On Friday, Ballou and Ray Worley, a senior from San Mateo, Calif., were the only doubles team to grab a win, with an 8-4 victory.
Ballou then took his singles match, defending his No. 1 spot, with Worley also winning his match. The No. 3, 4, 5 and 6 spots all had losses during their matches, bringing a loss for the team.
On Saturday, the No. 1 team of Ballou and Worley had another win, making their current record 14-1. The No. 2 doubles team, Alex Nichols, a junior from Bakersfield, Calif., and Connor Treacy, a sophomore from Venice, Calif., had a tough loss of 8-6. The No. 3 doubles team, Thomas Millet, a senior from Montpellier, France, and Marcelo Sousa, a junior from Uberlandia, Brazil, made an intense comeback during their match to win 9-8.
"Ballou sets the bar high for everyone else on the team," said Treacy.
Following his successful doubles match, Ballou continued his perfect season in his singles match, with Worley also bringing a win. Nichols, Treacy and Millet lost their matches.
"Today's match was a tough one. We grinded it out until the end and luckily, Devon Belcher came up clutch for us big time. Overall, we got the job done, but not quite in the fashion we would have liked to," said Ballou.
Belcher was able to bring the Kingsmen their win by taking his singles match.
"We have to find out our stride as a team before we play Occidental College and Santa Cruz. I'm really looking forward to the Ojai tournament. I want to win doubles with Ray and defend my singles title. SCIAC is after that," said Ballou.
The Kingsmen are 15-2 this season, with a SCIAC record of 5-1. With hopes of closing out the SCIAC season in first place, the team will have their final SCIAC match this Friday, April 12, at 2 p.m., against Occidental College in Eagle Rock, Calif.
Caitlin Dimmitt
Staff Writer
Published April 10, 2013