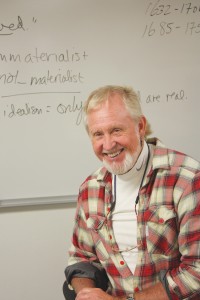 Our professors are the ones who provide the lessons we need to be successful. They carry the weight of each student's future on their shoulders, yet we often forget that once they leave the classroom they live lives as full of possibility and wonder as ours are.
Still, the life of a teacher is demanding. It can seem thankless at times, and completely rewarding at others. After nearly 33 years, it is likely that William Bersley has experienced both aspects of the job.
Bersley has been a professor of philosophy at CLU since 1980. Through the decades, he has watched students develop and learn, graduate and move on, only to have another set waiting for him the next semester. Some students stick in his mind. Some visit and remind Bersley of the impression he's made over the years.  Another reward, or an "ego-boost," as Bersley would say.
Bersley spent some of his childhood in Saudi Arabia. He also held various jobs during his adulthood, including picking auto parts, bartending and drilling roads. He has not only accumulated a wealth of knowledge with such a wide range of life experience, but puts that knowledge into practice to bring his students an objective view of philosophy that distinguishes him as a remarkable teacher.
"I try to keep the classroom light. Story telling is important in this regard in being both illustrative of difficult points and in sparking questions. Otherwise the class dies the death of a thousand abstractions," said Bersley. "I hope always in the classroom to create dialogue and get as much input as I can from students' current belief systems from which we can begin the questioning."
Junior Chris Wolf is currently enrolled in his fourth class with Bersley. To him, the relationship they have formed from a mutual curiosity and hunger for knowledge, but has since grown into what Wolf describes as a deep respect and admiration for his professor.
"He pushes you to be a critic and because of that, you know, I can look at whatever I read a bit more objectively and try not to be swayed so much," said Wolf. "He may be kind of intimidating at first…but there's just so many benefits to being in a class with him."
More than that, Wolf explains that Bersley creates a dialogue in such a way that allows students to talk with him person-to-person, rather than strictly teacher-to-student.
"With every little story, you feel like you have a greater insight into his mind," said Wolf.
A mind such as Bersley's seems to be brimming with ideas that his students can't wait to explore and learn about. His students insist that Bersley can stand at the front of the room, spark a discussion and keep the class captivated for far longer than a single class session.
Junior Blake Filo was a history major before he took his first class with Bersley, after which he changed his focus to philosophy. And like his peers, Filo sees Bersley as more than just a teacher.
"He's been there when I've had trouble. He's willing to support you both in and outside the classroom," said Filo.
Filo said they talk like friends, making him feel both comfortable and honored to have insight beyond the set curriculum. Filo attributes this not only to what he calls Bersley's "eccentricity," but his appetite for discussion and applying his experience to his work.
Now, after 33 years of dedication to his field and students, Bersley is preparing to retire to a life of outdoor adventures and time with his family.
Many wish Bersley's time at CLU would never have to be cut short, but his longevity and the impact he has had on his students speaks volumes as to the kind of person and teacher Bersley is.
He encourages all people to question, think and expand what they believe to better understand the world around them.
"Everybody's already a philosopher. They just haven't explored why they think the way they do," said Bersley.
Berlsey hopes to have given students a little more wisdom to take with them after his retirement.
"I try to let the day bring its own surprises and not over-plan my own life. I've learned that over the years," said Bersley.
If you don't get the chance to take a philosophy course with Bersley, some might say you're missing out on something great.
There are many lessons that can be learned from someone with so many unique experiences, but even if you never share an academic space with Bersley, his message for students remains the same,  "Don't stop questioning. Never stop questioning."
Christa Price
Staff Writer
Published April 10, 2013