Apfelthaler takes over as School of Management dean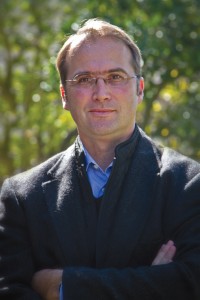 On June 1, Gerhard Apfelthaler will become the new School of Management dean at CLU.
Apfelthaler is currently a CLU professor and the associate dean for the School of Management. When he heard that current Dean Charles Maxey would be retiring to teach, Apfelthaler applied for the position.
For the new position, there was a national search, with about 50 other applicants in the running. During the final round of reviews, Apfelthaler went through two days of interviews and presentations. Despite the competition, he was appointed to be the new dean.
Apfelthaler said he is excited for the opportunity and sees big transformations in the future. He said that with the great environment that California Lutheran University has to offer and the solid basis that the School of Management has, he will be able to bring about a change.
"I like dynamic environments, and that's what excited me about the position, to have the ability to bring change to CLU," said Apfelthaler.
Maxey said he felt confident with the selection since Apfelthaler is a very accomplished scholar, organized and has a lot of experience.
"He was the most qualified person we could find, and we are very happy to have him," said Maxey. "I'm delighted, I think he's exactly the right person to lead the next phase of development in the school."
Associate Director of CLU's California Institute of Finance, Harry Starn, thinks the transition from Maxey to Apfelthaler will be a flawless one.
"I think he'll bring wonderful energy and efficiency," said Starn.
Apfelthaler was hired by CLU in 2009. Before that, he visited CLU regularly as a visiting foreign scholar and assisted the School of Management in international markets for several years. He also serves on many faculty and university committees and has contributed in the school's participation in the Festival of Scholars.
As the new dean, Apfelthaler said that he wants to create an environment of inclusiveness within the School of Management.
"It's never easy to move from the spot where one day you're a colleague and the next day you're the boss of your colleagues," said Apfelthaler. "I'd like to really build trust among everybody at the School of Management."
Besides the faculty, he said he would really like to focus on the students of the School of Management.
Apfelthaler believes that the students have not been very involved with the School of Management in the past. He plans on changing that by making students aware that they are part of a bigger community.
"I'd like to focus on the internal community building with the students, as well," said Apfelthaler.
Apfelthaler said that the next 10 years will be filled with innovation and expansion and that he wants to make the school better for the future.
"I think that CLU is a real gem in the higher education landscape," he said. "I like to create new things, so this is something that I really look forward to."
Lauren Blachowiak
Staff Writer
Published April 10, 2013