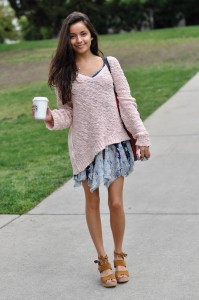 A lot changes during the four years you spend in college, including your wardrobe. From freshman to senior year, different styles and trends come and go. As you begin to evolve as a person, it only makes sense that your clothes will too.
We all had that one piece of clothing that we loved freshman year, which we wouldn't be caught dead in now.  Growing up not only means having new responsibilities, but also looking the part.
"Freshman year, I honestly wore a lot of gym shorts and sweat pants. Being an athlete you go from the gym to practice to class and it kind of limits your wardrobe and the amount of time you have to get dressed in the morning," said senior Ronnie Burton.
Dressing casually may not only be a temptation for freshman, but a necessity.
"During my first year, I never really went through the typical casual sweat pants and sweat shirt days, unless I was too lazy to get ready for my 8 a.m. class," said junior Paige Zimmer. "My style was more casual but styled, so I looked put together, but it was nothing that stood out."
Usually a shift in style occurs when you get closer to graduating. Soon you'll be in the work force and your favorite sweatshirt will no longer be appropriate to wear.
"I realized I needed to start dressing differently when I was a sophomore," said Burton. "Being a communication major, I had a huge presentation in my public speaking class. Everyone was dressed up except me because I had baseball practice right after. I ended up getting marked down five percent because I wasn't dressed professionally. That experience changed my life socially and professionally, because it taught me the lesson of appearance and how it does matter."
Burton has since changed his ways.
"I now at least try to put on jeans and a nice shirt when I go to class or just in general. I mean I still wear gym shorts and T-shirts, but in upper division classes they expect you to dress professional, which is the same in the workplace," he said.
Many students start to change their style when they realize how important a put-together appearance is. Whether this change happens due to professors stressing the importance of professional attire, or simply growing out of your teen years into adulthood, it's typical for young adults to go through a wardrobe change.
"Now, being a junior, my teachers stress professionalism with the way you dress, which makes me dress up more. I never know when they might want to talk to me or have a meeting, therefore I try to dress up and get ready so it shows that I take pride in my appearance," said Zimmer.
Where you shop can indicate how your style has changed through the years. You might not be shopping at the same stores you did your freshman year because they no longer work with your grown-up style.
"I like to shop at H&M, Zara and Nordstrom because they have more mature clothing that fits my age and where I am right now in life," said Zimmer.
Senior Thomas Schofield, who works in retail, agrees that where you shop can define your style maturity.
"I've always cared about what I wore, but when I started working at J Crew, it gave me more knowledge of what to wear for different occasions, especially when it comes to dressing professionally," said Schofield. "The way I dress now depends on the occasion. I can still be casual, but I know how to dress up. Instead of a hoodie and jeans, you're more likely to catch me in a button up and dress shoes."
Lindsey Walton
Columnist
Published April 10, 2013