Kingsmen have Poets revising their work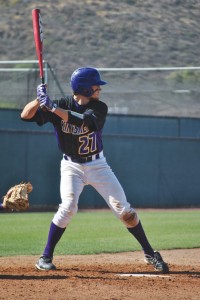 "I am extremely confident in our team up against anyone. The way we have been playing, not only offensively, but also with our pitching and defense, I think we are able to beat anyone," said senior first baseman Nick Boggan.
The Kingsmen baseball team, its team morale and confidence as high as ever, played a home game Friday against fellow purple and gold conference opponent, the Whittier Poets. The Kingsmen were able to put together another great performance on the diamond and defeated the Poets 8-2 to increase their win streak to nine.
"We know that if we play our game that we can beat anyone and it doesn't matter who they are," said junior pitcher Aaron Roth. "Every conference team is a quality team, so we have to come out strong and we did."
The Kingsmen showcased their hitting dominance yet again as they accumulated 15 hits on the day.  The team's batting average is .366, which is second in the nation for Division III.
Juniors Jake Petersen and Nicho DellaValle led the offensive attack, both tallying three hits. The two are leading the SCIAC in batting averages. DellaValle is also tied for 10th in the nation with 49 hits on the year.
"It feels good to know I am helping my team win games. Wins are the most important thing, personal stats are just an added bonus," said DellaValle.
Boggan, the notorious power hitter, has not stopped his production at the plate. He went 2-4 and batted in four RBIs. This pushed his total RBIs to 43 on the year, which ranks him second in the nation for RBIs.
"A lot of teams are trying to keep me off balance and trying to make me hit their pitches. I just need to be patient and look for mistakes," said Boggan.
The Kingsmen's pitching was efficient yet again with great outings from Petersen and Roth. Petersen struck out five Whittier batters and gave up four hits in seven innings. Roth came in to close out the last two innings and struck out two batters.
Roth stepped into the closer role this year and has not given it up. He has compiled seven saves and leads the SCIAC in earned run average with a 1.21 era.
"I love pitching in those late-game situations. I think it's every competitor's dream for those high-stake situations. Our offense and starting pitching has been so good right now, so I haven't had too many heart-pounding moments late in games recently.
But when that time comes, I know I'll be ready and I can help my team pull out a win in a crucial situation," said Roth.
With the win, the Kingsmen's pursuit of a SCIAC championship is nearly in its grasp. It has been a long time coming for this team, especially for the seniors on the team who are still trying to get their first SCIAC title.
"It feels right. We have always put in hard work as a unit and it feels good to be on top," said DellaValle.
"This is something I have been waiting for for four years, and it feels really good to finally be in this position," said Boggan.
"We just need to make sure we don't get complacent and continue to play our game and good things will happen."
Boggan tallied five more RBIs against Whittier on Saturday helping the Kingsmen win both games, 21-5 and 10-1. Those five brought Boggan's career RBI total to 141, placing him atop the CLU baseball record books.
The sweep brought Cal Lu's record to (25-6-1, 18-3 SCIAC).
The Kingsmen will visit Mt. San Antonio College (Mt. SAC) to play University of La Verne on Friday at 7 p.m. and will host a double header against the Leopards on Saturday.
Matthew Bowman
Staff Writer
Published April 17, 2013