Faith in God propels Barton down the trail of life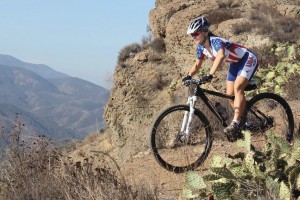 It's common for students at CLU to be involved in multiple activities at once: Clubs, sports, research, theater, music and classes.
A lot of dedication goes into balancing all of these things while maintaining relationships and finding time to eat and sleep. So when people manage these tasks with ease and poise, we're inclined to find out what keeps them going.
Junior Essence Barton is one of those people. She'll smile at you, she might ask if there's anything she can do to help you and assure you, with a dose of humility, that the two of you are not that different.
Barton has been riding bikes since she was 5, and at age 9 began racing competitively. She has multiple championship titles to her name and has ridden alongside some of the best competitive racers in the world.
As one of the co-founders of D.A.N.C.E club, she dances and still finds time to do coursework as an exercise science major while maintaining friendships in every corner of campus.
Given all of her commitments, it would be understandable for Barton to get burnt out. But she says a strong sense of faith is what makes all the difference.
Barton's main motivation is to represent God in what she does. It's the rule that she follows in each facet of her life, and she says it's what encourages her to do what she loves. When she feels she has no strength left, she leaves it to her faith to guide her in the right direction.
"With my faith, it's not just another thing to make my life better. That is my life," said Barton. "It's what directs everything that I choose to do."
Senior Blake Carney has known Barton since he was 12 and says she is a good friend because she truly cares about others and goes out of her way to support them. Over the years, Carney says that he has seen Barton's passion and good will many times.
"She is very passionate about the important things in her life. Essence has a lot of talent. That coupled with her passion makes her a great friend and a great athlete," said Carney.
Carney is always impressed with her thoughtfulness and generosity toward others.
"Up in San Francisco a couple years back, we had stopped in town to get a bite to eat. We were just about to leave and Essence grabs her to-go box of leftover food and takes off down the street. A few minutes later, she comes running back and said she had seen a homeless man while walking back to the car and wanted to give him food and a little money for some hot food next time.
This speaks a lot about Essence's character," said Carney.
From her dedication as an athlete to her nurturing character in her personal life, it seems that nothing can get Barton down.
Of course, she insists that isn't true, alluding again to the solid religious conviction that she says keeps her going when times get tough.
"God is everything," said Barton. "That's the reason why I am so positive."
And whether it's her faith in racing, in school or in church, Barton's mantra remains the same.
"If [it's] something you love, make it a priority."
Christa Price
Staff Writer
Published April 17, 2013