Margaret Thatcher inspired women to dream big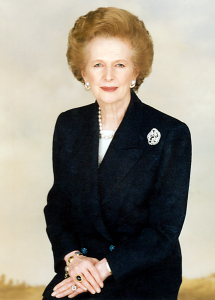 Margaret Thatcher, former prime minister of the United Kingdom, died of a stroke at age 87 on April 8.
Thatcher remains a controversial figure to some and an inspiration to others.
Thatcher was honored in a ceremonial funeral service at St. Paul's Cathedral in London, according to Susannah Cullinane, a writer for CNN. Queen Elizabeth II and her husband were among those who attended the funeral service. Thousands of people lined the streets of London to witness the ceremony.
Thatcher received full military honors for her work in the United Kingdom. Out of respect for Thatcher, the chimes of Big Ben were silenced for the duration of the service.
Thatcher was appointed prime minister in 1979, making her the first British female prime minister. She held office for three consecutive terms, according to Cullinane. She was a woman in power during a time of significant male dominance.
The Soviet press named her the "Iron Lady" because of her strong opposition to communism during the Cold War. Thatcher, Ronald Reagan and Pope John Paul II are all credited with ending the Cold War and bringing about the collapse of the Soviet Union. Her brand of conservatism and politics is often referred to today as Thatcherism, according to the Margaret Thatcher Foundation.
I believe Margaret Thatcher was an incredible woman because she demonstrated that women can have high careers in politics.
She balanced her passion for politics with her love of being a mother and a wife.
She successfully managed a high-ranking career in a time of extreme gender inequality for women and proved to be ahead her time.
"It makes me feel that England is ahead of the game of gender equality," said sophomore Rose Haworth, member of Feminism Is…, the feminist club at CLU. "Whether or not one agrees with her politics, Margaret Thatcher is a noteworthy person because she was a strong female leader in a century ruled by men."
Sophomore Kassidy Hansen was amazed at the length of Thatcher's political career.
"She really opened the door for women," said Hansen. "Winning this position really was a huge step for women to hold high position, and with Thatcher holding the same position for 11 consecutive years, she proved that women are capable of anything they set their minds to."
Sophomore Breanna Drummond, a history major at California Lutheran University, is impressed by Thatcher's accomplishments and inspiration to women.
"Even if you personally don't agree with her politics, the fact that she was the first female to reach the highest government position in the UK is incredibly impressive," said Drummond.
Louie DeMetre
Staff Writer
Published April 24, 201