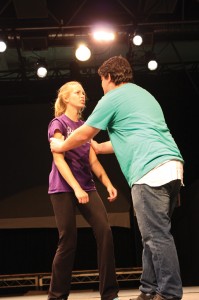 It seems that zombies have come to CLU, but don't be alarmed. There are some people on campus who know how to handle the situation. Armed with household items turned weapons, a group of students are prepared to fend off the mindless creatures and bring safety back to campus in the latest theater production, "Neighborhood 3: Requisition of Doom."
Set in suburbia, "Neighborhood 3" follows a group of disillusioned teens who turn to a popular zombie killing video game to escape from the challenges of everyday life. When the lines between the game and reality blur and they begin to believe that their parents are actually the undead from the game, the teens embark on a mission to defend themselves against the horror.
Freshman Matthew Case said "Neighborhood 3" is a good representation of how kids' hobbies have changed. Case plays 17-year-old Jared, who  turns to the game to cope with having an alcoholic father.
Regardless of whether it's just to fit in and play the game or to escape family problems, Case believes the young characters become attached to the video game for similar reasons.
Junior Chris Malison agrees, noting that every aspect of "Neighborhood 3" strives to represent the characters' disorientation.
"People spend countless hours playing video games, and it's marked a shift in our society. This show makes a good commentary on that fact," said Malison.
The understated costumes and set design leave a lot to the imagination, but there are a few novelties incorporated into "Neighborhood 3"  should excite audiences. The crew has had the opportunity to work hydraulics into the otherwise simple set.
According to Malison, who is playing a parent, Doug, while also acting as assistant technical director, the experience, while rewarding, has proved itself a challenge.
"We decided to take this in a very technical direction. Changing sets, making it very much video game-like, making our transitions automated. It's all going to be electronic, and that's something that we haven't really done before," said Malison.
Over the course of the play, described by Malison as a "dark comedy," the characters are introduced to the audience through two-person scenes, which permits for intimacy between the actors and provides an immersive effect that feels like the video game.
Unlike the more formal productions the theater has presented this year, "Neighborhood 3" focuses heavily on the parallels it draws between this zombie-ridden neighborhood and our technology-dependent society  to make a statement about the evolution of entertainment.
The director, theater arts professor Ken Gardner, said "Neighborhood 3" is the kind of play that will be fun for the audience, but also make them think.
"The play will definitely stimulate a lot of discussion among students. The main characters are teens, just a little younger than most CLU students," said Gardner.
"Neighborhood 3" runs from April 25 through 27, May 2 through 4 at 8 p.m. and May 5 at 2 p.m. in the Black Box Theater. Admission is $10 or free with a CLU ID.
"Neighborhood 3" features graphic language and violent situations.
Christa Price
Staff Writer
Published April 24, 2013