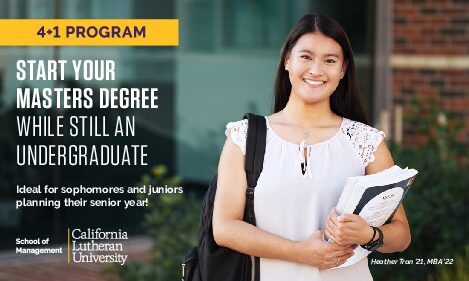 California Lutheran University is offering its students the chance to save up to $8,100 while earning a master's degree through its 4+1 graduate programs.
The 4+1 program allows undergraduates to pursue a graduate degree in business (MBA), finance (MBA or MS in Finance), economics (MS in Quantitative Economics), public policy (Master of Public Policy and Administration), or an MS in Information Technology. By applying for the program as a junior, students can begin taking graduate courses during their senior year and get a head start on their graduate studies to earn a master's degree.
"With current undergraduate tuition, [students] are basically able to take these classes at no additional expense," Carol Chung, director of Graduate Admission, said. "By getting a jump start on taking classes while an undergraduate, they're saving money while also fast-tracking their graduate program."
"The 4+1 program is very flexible," said Alexander Cervelli, a 4+1 MBA graduate from Cal Lutheran who is currently working as a Sales and Trade Strategy Manager at Vytalogy Wellness. "The class options the MBA program offers, including weekend and online courses, made it easier to progress in the program even when the work became more demanding."
Another 4+1 MBA graduate, Amara Gwyn, Event Operations Associate at March Capital, shared her experience about the program as well: "I would tell someone interested in the 4+1 program to do it…. It creates an opportunity to make yourself different than others…. A lot of people have told me they wish they had known about this program because they would have done it."
To learn more about the 4+1 program, stop by the Graduate Admission office in Alumni Hall, or call (805) 493-3324 to talk with a Graduate Admission Counselor. All applicants mentioning The Echo will have their application fee waived.