High-tech C-SPAN bus stops at CLU career fair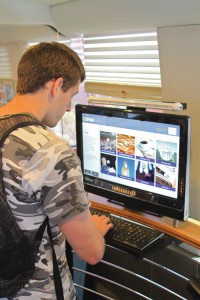 The C-SPAN mobile recording and information bus stopped at CLU last Wednesday.
"I had brought it here almost five years ago," said Herbert Gooch, a professor of political science at CLU. "We were on their radar, and they got in touch with Karin Grennan and have been coming back year after year ever since."
The bus is outfitted with computers and flat screen TVs, making it a mobile newsroom.
"It's perfect for the political science, communication and journalism majors. It's a huge red bus and they park it over by Jamba Juice in front of Overton Hall. I remember one year I got a great T-shirt from C-SPAN when they came; they're very nice people, and it's kind of a fun thing for everyone," said Gooch.
Students enjoyed the benefits of having the high-tech bus.
"It's really nice; I was blown away when I walked into it. As a communication major, it's great to be able to walk around inside the bus and see what it's all about," said freshman Savannah Robinson.
Four people passed out flyers about C-SPAN's internship program. Jennifer Curran oversees the operation.
"We just came from the Reagan Library, and we're going to be at USC tomorrow," said Curran.
She described the bus's equipment and software.
"Students, for example, could search for two presidents and see if they've ever spoke about each other and our program is able to find primary sources, videos that have the information that they're looking for and they can then use it for their research papers," said Curran.
The C-SPAN bus has a busy schedule.
"The bus is on the road 10 months out of the year. We go around everywhere, from different festivals to universities and promote C-SPAN and help students. We take a bit of a break during December where our employees get to be with their families and the bus gets serviced. As soon as that break is over, we are back on the road and touring," said Curran.
C-SPAN was also promoting it's internship program in Washington D.C. Curran explained that juniors and seniors majoring in communication, journalism and political science are eligible to work in an internship position in Washington D.C. researching, pitching to the media and compiling stories for C-SPAN.
The internships offer experience in public affairs and media. To apply, visit www.c-span.org and click on "employment," or mail a cover letter and resume to 400 N. Capitol St. NW Suite 650 Washington, D.C. 20001.
Brock Funfar
Staff Writer
Published April 24, 2013