Time to saddle up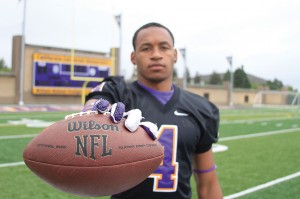 After months of training, meeting with teams and staying in close communication with his agent, senior Eric Rogers is an undrafted free agent signee with the Dallas Cowboys. The decision came during the NFL draft after several phone calls were made between Rogers and various teams, including the Green Bay Packers, Oakland Raiders and Kansas City Chiefs.
Leading up to the pivotal moment, Rogers treated the weekend like any other. He spent Friday night at the Staples Center watching the Los Angeles Lakers play the San Antonio Spurs in the NBA playoffs. He spent Saturday morning with CLU coach Ben McEnroe, before heading to Westlake Village to grab a meal and spend time with family and friends while he waited for the news. Rogers shared the day with Tulane University's Ryan Griffin, who signed with the New Orleans Saints post-draft.
Carrie Barron, Rogers' mother, has been his biggest support throughout his life, especially when encouraging him to follow his dream of playing in the NFL.
"I am proud of him, and I am happy for him because he is achieving his dreams that he has had since he was a kid," said Barron. "He stayed focused on that goal all through his teenage years and now that he is finishing up with college, he reached it. He never lost sight. Now all his sacrifices and work that he stayed focused on has given him this opportunity. His dream team was Dallas, so we will see where it goes from here."
A couple of weeks ago, Rogers spent time in Green Bay, Wisc., hoping to be drafted in the seventh round by the Packers. However, after they drafted two other wide receivers, it didn't look promising. Rogers remained in good spirits all the way up to finally making the decision to go with the Cowboys.
"I'm excited about the opportunity, but even with the work that was done, I know that I did not make it just because I got invited to a camp. My first goal was to get the invite, the next goal is to stick it out and make it with the team. After that, I will set another goal and see what happens," said Rogers.
Rogers' outstanding abilities, work ethic and commitment are just a few reasons why he will be a successful wide receiver in the NFL according to teammates. Described as a dynamic player by senior Rian Younker, Rogers constantly works to get better.
"Not only does he have phenomenal physical talent, but he also has a great head on his shoulders. Physical talent only takes you so far, but Eric leads by example and will be successful in whatever he does, both on and off the field," said senior Broc Galbreth.
Rogers will soon send his approved and signed contract to the Cowboys. Then, he will head to rookie camp with the other new recruits, where he must make a positive impression on the coaches and players if he wants to make the roster.
Caitlin Dimmitt
Staff Writer
Published May 1, 2013