Feminism Is… and Not for Sale take back the night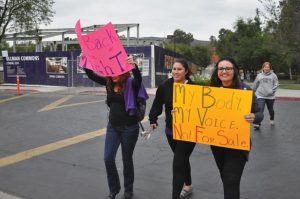 As you walked through Kingsmen Park, there were colorful T-shirts hanging on a clothesline; T-shirts that represented the agony of women who suffered violence in their lives. On April 24, the Feminism Is… and Not for Sale clubs  hosted Take Back the Night.
"The shirts are hung on a clothesline and put on display as testimony to the idea that violence against women not only still exists but continues to be a problem. So many of the shirts students saw that day were decorated by victims of abuse," said junior Young Peak, secretary for the Feminism Is… club.
According to Co-President Kacy Cashatt from Feminism Is…, Take Back the Night is a worldwide event that stared around the 1970s. It is best described as a rally, or a march against rape and other abuse of women. This Take Back the Night was meant to inform CLU students about human and sex trafficking.
"Take Back the Night is a long-standing event that happens all over the country to shatter the silence around violence against women. It's about giving victims a voice and making sure that women don't have to deal with such horrific tragedies ever again. This year, we teamed up with CLU's Not for Sale club and centered the event on human trafficking," said Peak.
The event began by introducing speaker Ima Matul, who was a victim of child labor trafficking.
"My favorite part of the event was hearing our speaker, Ima Matul. She is not only a survivor of trafficking, but an advocate for the freedom of slaves worldwide. Hearing her story was painful. I liked that she shined a light on the many slaves that are trafficked into the United States, because I'm sure not many people knew about that," said Peak.
Students later rallied against the violence of human and sex trafficking by marching and carrying signs around campus.
"Sara Pressey and Feminist members led a march carrying signs with such slogans as 'Consent is Sexy, Force is Not.' and 'My Body. My Voice. Not For Sale,'" said Cashatt.
CLU students also performed songs at the event.
"My favorite part was all the different performances from different kinds of people who care about Take Back the Night or women to end violence and so women could walk safe at night," said junior Adara Groves.
Students who attended this event became aware of how human trafficking still exists around the world and how they can take a stand to stop it.
"Overall, the event taught me that we still have a long ways to go in recognizing the many kinds of abuse women face worldwide. Whether it be sex trafficking, rape or domestic abuse. It's never been okay and never will be okay," said Peak.
Groves learned how to take action after attending Take Back the Night.
"One of the things that I learned was some of the advice that the speaker had on how to recognize the victims of human trafficking because I never really thought about looking for those signs in everyday life. I never thought before what I could do to prevent human trafficking," said Groves.
Kikey Aguila Bello
Staff Writer
Published May 1, 2013