Festival of Scholars hosts a week of presentations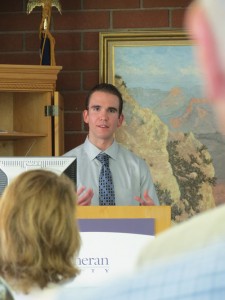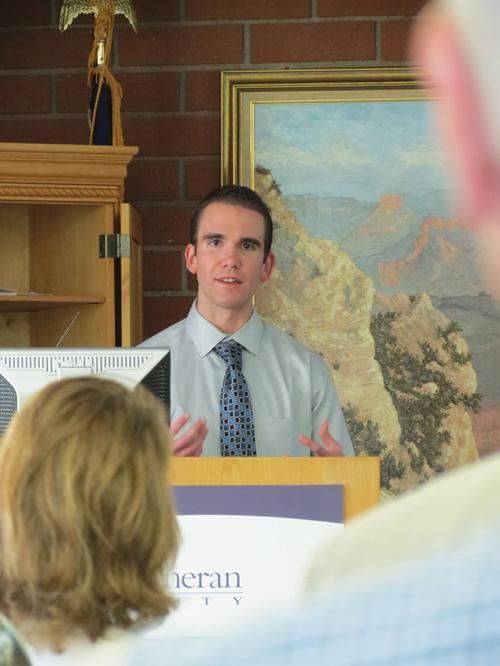 Festival of Scholars, CLU's annual event showcasing student work, began on Monday, April 29 and concludes Friday, May 3.
Undergraduate and graduate students have scholarly work on display, including a broad range of projects, creative works and scientific research.
Among the many scholars presenting is Alexander Daley, a senior English major. Daley has two projects in the festival: His English capstone paper "A Search for Power: The Role of Female Ambition in 'Emma' and 'To the Lighthouse,'" and another research project he said he did out of "pure curiosity."
"I became really good friends with Dr. [Guy] Erwin and Dr. [Peter] Carlson, and when it came time to do my senior project, I knew I wanted to do something in the realm of religion because I was so ignorant before I came here," said Daley.
His second project, "Baptism: A Lutheran Necessity?" explores what it means to be baptized, centering around the concept of love and how to define love.
"Baptism in and of itself is an outward sign of love. How religious denominations go about defining that varies. I came to Cal Lu very confused about Christianity in general, and by the time I left, I wanted to have one thing to say Cal Lu taught me," Daley said. "It didn't come from my studies in English, but rather, three and a half, four years of mentorship under Dr. Erwin, Dr. Carlson and, briefly, Dr. Streeter."
Junior Kayla Peralta, multimedia and communication double major, presented Multimedia 471 class projects on Monday because she is the departmental assistant for the multimedia department.
The two-semester class was challenged to produce films from the ground up, from pre-production, to casting, to filming and editing.
"It's pretty exciting to see all your hard work coming together," said Peralta. "When you can see your final product."
She showed scenes from the student films "Robox," "Silent," "Hats" and "The Ex."
Junior Alexis Miller, an English major, and senior Victoria Kodai, a communication major, also have works showcased in the festival.
"I identify what cynicism is and how it defines the postmodernist movement," said Miller of her presentation, "C.S. Lewis and a Rejection of Cynicism."
Kodai has two projects in the festival. One from her advanced film class, "Forbidden Fruit: The True Story of the Garden of Eden," and "The Decline of Indentured Servitude as a Labor Model in Seventeenth Century Chesapeake," a project for her Colonial American History course.
This week gives the university the opportunity to showcase its students and gives the students an opportunity to present as scholars, said Marylie Gerson, associate professor of psychology and coordinator for this year's festival.
"I think it is important that everyone recognizes how much CLU values faculty mentorship by student work," said Gerson.
In honor of this year's theme, "Making the World a Better Place," students from different departments will display work that relates to improving the world on Wednesday in the Lundring Events Center from 3 to 5 p.m. The keynote speaker will present a philosophical paper on disenchantment and re-enchantment.
In addition to the research project showcases will be induction ceremonies to Pi Delta Phi, the national French honor society; Lambda Pi Eta, the national communication honor society; Pi Sigma Alpha, the political science honor society; Phi Alpha Theta, the history honor society; Sigma Delta Pi, the national collegiate Spanish honor society and Psi Chi, the international honor society in psychology.
"It's really awesome to see so many students apply and be inducted," said Psi Chi President Astrid Olivares. "It shows that the psychology department is doing really well."
Psi Chi will induct about 30 undergraduate and graduate students, according to Olivares. The ceremony will be in Lundring on Wednesday from 6:45 to 9 p.m.
The honors convocation ceremony was held on Tuesday, and the honors banquet will take place Friday evening at Wood Ranch Golf Club.
For a full list of projects presented throughout the week, contact the Office of Undergraduate Research and Creative Scholarship or visit callutheran.edu/fos.
Ashley Adelman
Staff Writer
Published May 1, 2013