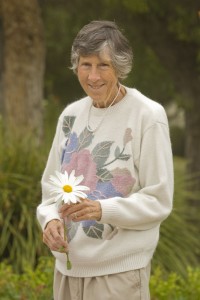 On May 1, professor Barbara Collins passed away from an incurable bacterial lung disease at 84 years old. Collins taught at CLU for 50 years.  Her biology students viewed her as a very passionate professor who cared highly for science and nature.
"She was a very informative professor. She had a lot of pep in her step. She had that fire in her belly. She had the willingness to help others and gave everybody the attention they deserved. Overall she was a remarkable professor and I am definitely going to miss her," said junior Brandon Wachs.
Collins earned a bachelor's degree from Bates College and her master's degree from Smith College. She then she became the first woman to earn a doctorate in geology from the University of Illinois.
According to biology major Chelsea Killen, Collins helped her decide on her major. Killen entered CLU undeclared, but having Collins as a mentor and a professor in the course Introduction to Biology helped her choose biology not only as a major, but as a career goal.
"I ended loving her course. Her office door was always open. Anytime you walk by she'd smiled and say 'hi.' She always asked what was going on in my life, how are things going, any new jobs or plans, things like that. Very genuine and always caring," said Killen.
Collins was known by her students for making biology an interesting subject to study.
"She had a great way of making bio fun. She would just relate it to something we would actually want to pay attention to. She had a great teaching style, obviously, you can tell she taught for years and years," said senior Jamie Purcell.
Senior Kirsten Larson is one of many students impacted by Collins.
"Dr. Collins was an inspiring professor. She taught so many students what it meant to be truly passionate about a career," she said.
Professors of the biology department will miss her because of the leadership she displayed and her great conversation skills.
"She was a very important, integral part of this department. Everybody had experiences with her and she certainly enhanced all of our experiences at the university. But she was very fair, diplomatic, nice and professional and she always acted with very high ethical standards, so she kind of kept us in line around here, which was good. What I'm going to miss about her is the leadership and the informal conversations that we had in the hall and in the office, the commonalities and the things we shared and the students we collectively knew," said biology department professor Andrea Huvard.
In her years working in the biology department, Collins earned the respect of her colleagues who admired the love she had for science and for her students.
"It's a big loss. Just her aura; she always exuded confidence. She was always excited about things. No matter how many field trips she's taken or as many classes as she'd offer [she was] always enthusiastic about everything she did," said biology professor Kenneth Long.
Secretary for the science division Vicki Wright worked closely with Collins and will also miss her dearly.
"She was a great person, very enjoyable to be around. Every morning she would come around the corner and say 'hi' or 'good morning'," said Wright.
Larry Howard, a family friend of Collins', wrote a poem for her that describes how important nature was to her and how she made him realize the beauty of nature:
God gave eyes to see.
Barbara opened them
Spring flower on the forest floor,
Spotted Coral Root (Corallorrhi
zamaculata)
I had missed it.
"Look right there,"
I could not see.
She lifted the veil.
Twin Flower (Linnaea borealis);
A new world for old eyes.
Barbara's eyes,
Forever mine.
Kikey Aguila Bello
Staff Writer
Published May 8, 2013