Streeter receives honorary alumnus award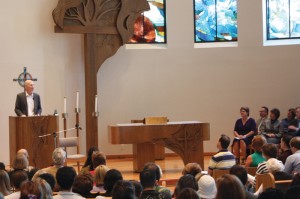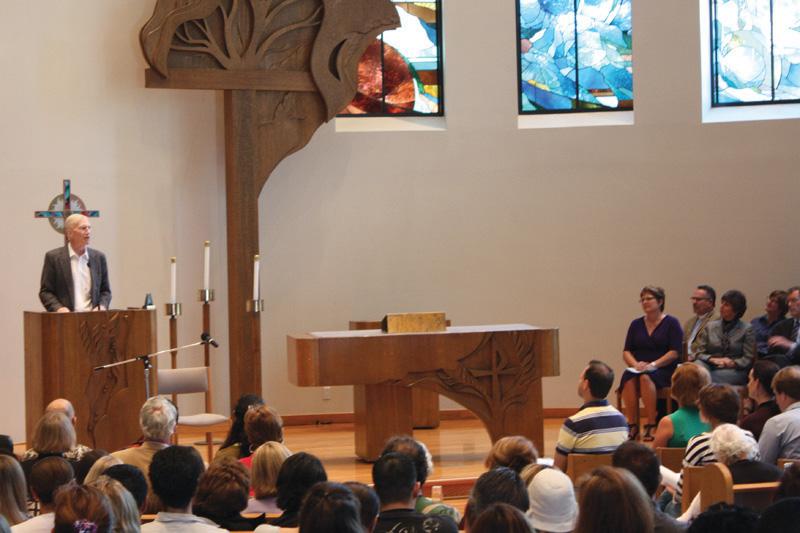 Jarvis Streeter, professor of religion, received an Honorary Alumnus Award from CLU's Alumni Association during Honors Convocation on April 30 in Samuelson Chapel.
After receiving the award with gratitude, Streeter gave the keynote address to students, parents and faculty in attendance, for which he received a standing ovation.
"It's not what you have or what you've accomplished in life, but who you are," said Streeter.
His speech was directed toward the seniors preparing to graduate and embark on their professional lives. The theme was distinguishing between success based on wealth, fame and power and success based on who you are as a person, a lesson he learned after he was diagnosed with pancreatic cancer.
"It's not what you have accomplished in life, but who you are…the kind of person you've made yourself into over the course of your life," said Streeter.
Streeter received the Honorary Alumnus Award for his leadership, dedication, scholarship and service after being a "fixture in CLU's religion department for 25 years," according to President-Elect of the California Lutheran University Alumni Association Board of Directors Brian McCoy, who presented Streeter with the award.
"I've never had the pleasure of having him as a professor, but he'll stop and talk with you if something is wrong," said senior English major Alexander Daley. "He's a different caliber of professor."
The award is reserved for those who have "rendered a special and outstanding service to California Lutheran University, or who by his/her personal achievement has brought honor and distinction to the University," according to the alumni association web page. "This individual demonstrates achievement in service to CLU and has received recognition from outside individuals or organizations."
"He is someone who truly lives the CLU mission," said McCoy.
According to its website, CLU's mission is to encourage critical inquiry into matters of both faith and reason.
"As we sat in our alumni board of directors meeting trying to look through a list of possible nominees and just seeing who of those folks lined up, Dr. Streeter was such a clear choice for us," said Assistant Director of Alumni and Parent Relations Stephanie Hessemer.
Streeter received the President's Excellence in Teaching Award in 2004, which was established by former CLU President Luther Luedtke to award professors held in high esteem by their peers, the students and the university community.
"Over time the little talks, little conversations in the hallway turned into full-blown discussions, and I think that's really [what] the glory of him being him is. Just that no matter what time of day, knock on the door and he will talk to you," said Daley.
Streeter earned his bachelor's degree in sociology from the University of Southern California, a master's degree in divinity from Luther Theological Seminar and a master's in sacred theology from Yale University Divinity School, where he was also a research fellow. He earned a doctorate in theology from Southern Methodist University.
Streeter authored a book, "Human Nature, Human Evil and Religion," and is currently in the process of finishing his second book, "God and the History of the Universe."
He is an expert in Christian theology, philosophical theology, historical theology, science, Christian thought and historical Christian research. He is also highly involved on and off campus through various nonprofits and theological organizations.
The Alumni Association hosted a luncheon after the Honors Convocation for 25 of Streeter's closest friends, colleagues and former students, said Hessemer.
"It was through what they had to say about the impact he has had on their lives and careers, I just sat there and knew we picked the right person," said Hessemer.
Ashley Adelman
Staff Writer
Published May 8, 2013