MYLife conjures ghosts and ghouls to cheer kids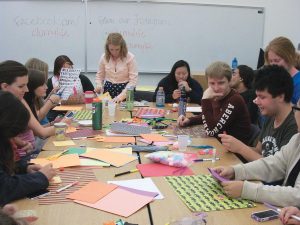 For children, there might not be any event nearly as memorable as Halloween. Kids get to dress up as their favorite character and end up with a year's supply of candy in one night.
Imagine not being able to participate in this holiday as a kid. For some children, not getting to take part in the festivities on Oct. 31 is reality.
MYLife, a California Lutheran University multicultural club, decided to spend its service project time creating fun and festive cards to send to children in hospitals around the Southern California area as a way to raise spirits. MYLife believes that even a single card can help bring joy to a child who may not be able to go dress up or go out on Halloween.
"Personally speaking, I really hope that one card from one person can really make a difference. Some of these kids are really sick and through these cards, they can at least enjoy a little part of Halloween," said junior Anissa Nguyen, vice president of MYLife. "Even if it gives them 10 minutes of happiness and joy, then it was worth it."
The group members sat in a circle as they created and decorated Halloween cards on Oct. 1.  Paper background shades, colored pipe cleaners, stickers, cotton balls, Halloween themed cut outs and other scrapbooking supplies were all used to make the cards.
First-year Keanu Quick made a creative 3-D card, using pipe cleaners to spell out "trick or treat." Other cards contained little messages of encouragement and well wishes for the children.
Senior co-presidents Lisa Rowan and Adara Groves have kept the tradition of making cards for kids for three years.
"It's a fun service day project. Everyone's together in a circle and we can just enjoy each other's company more this way," Rowan said.
According to the club's mission statement, MYLife "strives to celebrate individuality, while demonstrating that by uniting, we are stronger as a community. Our goal is to develop the individual while building community and realizing that we are never alone."
Through this service project, the club is not only exemplifying that statement, but also demonstrating and sharing it with children.
"It's one of those things where you try to do the best you can to give them the most normal, Halloween experience.   It makes me really sad that some of these children can't participate in any Halloween tradition and go run around and just be a kid. By making these cards though, it can at least put a smile on their face," said club member Maxine Nelson.
The cards will be sent to various hospitals, including Los Robles, Simi, Children's L.A. and Ventura Medical Center. Club members will deliver the cards to the hospitals where they will be given to children by hospital staff.
If given the opportunity to speak with one of the kids, junior Maria Stoll would want to express to them how special they are.
"We want them to know that there are other people wishing them the best and we are so proud of them," Stoll said.
Through a service such as this, a clear message of love is sent to these children.
Even if it is something as simple as a card, there are opportunities for positivity that can come out of it.
MYLife meets Tuesdays at 8 p.m. in Peters 102.
Evan Engel
Staff Writer
Published Oct. 9, 2013