Empower yourself with MYLife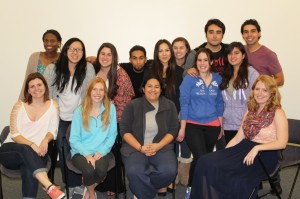 CLU Empowered, formerly known as Empowertown, is sporting a new look this year and is looking to engage participants both old and new.
The  annual event, held by California Lutheran University's diversity club  called MYLife, aims to spread awareness about topics such as racism, identity and gender, while also improving relationships and tightening the sense of community on campus.
A new facilitator, Spectrum Experience, will work with MYLife at the event this year. Spectrum Experience was started by former CLU student Evan Clark in 2012. Spectrum Experience hosts social justice workshops, the most recent of which was called  the Diversity Leadership Conference.
"The new facilitation is a local company, so it's really nice to get back to our roots because it's also a CLU alumni, and so we're really going to keep it focused on the CLU community, and how we can improve that for the students," Adara Groves, MYLife co-president said.
Spectrum Experience brings new activities to the event as well. Previous  years have included privilege walks, diversity circles and various other activities that raise awareness of cultures and identities.
"I'm excited because a lot of students are coming back, and because of that, we've kind of changed up the programming a little bit, and we're doing some new topics and some different activities, so that we can keep it fresh for everyone," Groves said.
The program is aimed toward reducing prejudice and finding individual identity while strengthening community and individual ties.
"I think it's important because it allows people to really take a look at themselves and how their identity affects their actions with everyone and with the university. I think it makes you aware of who you are and how other people might be different, or you might share similarities with other people, and how that affects how you connect with each other," Groves said.
"It definitely comes out with people more aware and their eyes open to topics we don't normally touch on, so maybe someone who never thought about the implications of gender discrimination now has an awareness of it," Lisa Rowan, MYLife co-president said.
This year's new look and positive reviews from years past are attracting new students to attend the event.
"I've heard a lot of good things about it. I've heard it was a lot of fun, so I'm just excited to get some new perspectives on topics I haven't really thought about," sophomore Samantha Roberts said. "It's a really unique opportunity and I am looking forward to it."
Along with excited newcomers, MYLife members are also looking forward to the event.
"I look forward to it every year because there's new people, and it's different stories you get to hear and different participants, and it kind of makes the outcome of it every year slightly different. You always meet different people and it always seems to have a positive impact," Rowan said.
The event will be held on March 1 from 9 a.m. to 5 p.m. in Nygreen 1. Free breakfast and lunch will be provided, as well as a T-shirt and over $200 in raffle prizes.
Students are encouraged to RSVP by following the link on CLU Empowered's official Facebook event page or on the HUB.
Ramsey Abushahla
Staff Writer
Published Feb. 26, 2014