'Tis the season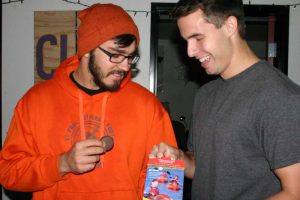 It is the most wonderful time of the year. No, not Christmas, but Girl Scout cookie season. For years, the public goes crazy for the variety of cookies offered by these young scouts. While many enjoy the tasty treats, for the Girl Scouts, the focus is on more than just cookies.
They are given the opportunity to learn life skills such as handling money and building confidence.
As a former Girl Scout, California Lutheran University senior Megan Rubin reminisced on her years spent as a troop member.
"My favorite part of Girl Scouts was all of the adventurous trips my troop went on, like white water rafting on the Kern River and going to surf camps," Rubin said.
According to Rubin, selling cookies helped her develop certain strengths and impacted her on a larger scale.
"Girl Scouts taught me how easy it was to give back and help those in our local communities. It's amazing how much of a difference you can make," Rubin said.
You do not have to be a member or even know a Girl Scout to get swept up in the cookie frenzy. Because the Girl Scout cookies are sold for only one season, they are in high demand when sales begin. Senior Cameron Rude was overjoyed when he received a box of his favorites sent from home by his mother.
"Peanut Butter Patties, also known as Tagalongs to some, are the best thing ever," Rude said.
There has been confusion over the multiple names the cookies are known by. According to the Girl Scouts of the United States of America website, the cookies are "produced by two different bakers," hence the different names. What some people call Samoas, others call Caramel deLites. Regardless of the names, they are the same classic recipe.
For former California resident Lynne Clarke Sauickie, being a former Girl Scout made it all the more important for her to have her daughter Addison participate in the organization, as well.
"I always look back at my experience as a Girl Scout so fondly and it truly helped me develop skills and build my confidence at a young age,"  Sauickie said. "I want my daughter to gain those same things. I have helped her sell cookies every year and it is such a fun mother daughter activity. It is just fun to be able to spend that special time together."
University of La Verne senior Chris Mora has taken his love for the cookies to a new level by purchasing 15 boxes of cookies this season.
"I've spent $60 on Girl Scout cookies in the past two days alone. I just can't get enough," Mora said.
Whether you purchase one box or 10, your support is encouraged by the Girl Scouts of America. By buying a box of cookies, you are contributing to your community and its youth development, a payoff that is big for both your heart and your stomach.
Kylie McLogan
Staff Writer
Published March 5, 2014