Regals returning to form
Coming off an appearance in the Division III Championship match last year, the Regals volleyball team looks to have another stand out season.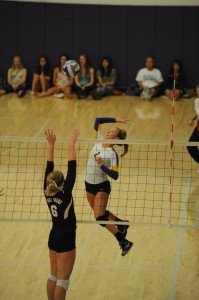 Last season the Regals finished with an overall record of 35-2, while going undefeated in the Southern California Intercollegiate Athletic Conference (SCIAC) with a 16-0 record. This gave them their fourth consecutive conference title and 10th in program history, while finishing the season ranked at number two in the country.
"There is definitely a huge target on our back this year because of how well we did last year. Everyone is going to want to beat us and play their best against us. I think we all thrive under pressure and we know we have to stay confident to win," senior Kennedy Peters said in an email interview.
The Regals come into the 2014 season ranked number six in the American Volleyball Coaches Association (AVCA) preseason poll.
"Our goals and expectations are pretty much the same as always. We want to make sure that as the season progresses we're getting better and better and that we are always striving to play Cal Lutheran volleyball," said junior All-American Allie Eason in an email interview. "For now I think the biggest goal is going to be to go into SCIAC competition with confidence and with the mindset of taking it one game at a time and learning from each experience."
The Regals return 11 players from last year while they add eight new players to the team for the 2014 season.
"Chemistry-wise in the preseason it's really been about learning to come together as a unit on the court. We have a lot of girls who are stepping into new roles this year and as we've gotten used to those changes we've made some big strides as a team and will continue to improve as the season goes on," Eason said.
Getting back to where the Regals ended their season last year will not be an easy road. They will play seven other ranked teams this year including Claremont-Mudd Scripps a SCIAC team ranked at number 19 by the AVCA.
The Regals are off to a hot start going 11-1 in their first 12 games. They went 4-0 in the Pacific Coast Classic, 3-1 in the Cal Lu Fornia Invitational and 4-0 in the Wittenberg Fall Classic.
"I learned that it is important to stay patient and remember that everything is a process. We don't get from one point to another while skipping everything in between. For us to get as far as we did last year it will take a lot of hard work day in and day out and have a lot of patience for what it takes to get to that point," senior Jena Chavez said in an email interview.
After week one the Regals jumped from sixth to fourth in the rankings according to the AVCA.
Chris Whitmer
Staff Writer
Published on September 17, 2014