Second half stonewalls Kingsmen
After taking a 24-21 lead into the half, the Kingsmen give up 21 unanswered points in their final tuneup before conference play.
The Kingsmen suffered a loss on the gridiron last Saturday, but put up a tough fight with 24 points against the Willamette Bearcats. The final score was 42-24.
Throughout the first half, the game was back and forth between both teams. Willamette turned the ball over on the first possession of the game, allowing junior quarterback Nick Isham to connect with wide receiver Andrew Worthley for the game's first touchdown. Later in the first quarter, Cal Lutheran kicker Diego Marquez made a field goal, adding three points to the lead.
The Bearcats then scored a touchdown, making it a close game heading in to the second quarter.
Kingsmen head coach Ben McEnroe said that he was impressed with how well the Bearcats blocked and tackled.
"Willamette, to their credit, blocked and tackled a lot better than we did. They did a great job of withstanding an early surge by our guys," McEnroe said.
That surge lasted until the end of the second quarter, with the Kingsmen scoring two more touchdowns. The first of the two Cal Lutheran touchdowns was a 2-yard run by junior running back Ricky Johnson.
The second touchdown was by wide receiver Jojo Curiel, on a huge 97-yard kickoff return.
By halftime, the Bearcats were trailing the Kingsmen 24-21, but the Kingsmen were not able to put up any more points in the second half of the game. Willamette scored one touchdown in the third quarter, and two more in the fourth.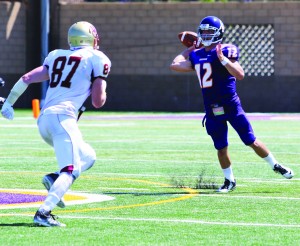 David Rico, who split time with Isham at quarterback in week one versus Pacific Lutheran, stayed on the sidelines in Saturday's game due to a finger injury. McEnroe said that there is no official prognosis yet regarding whether or not Rico will be in playing condition by the time the Kingsmen face Whittier in two weeks.
Isham, who played all four quarters Saturday, said that while there were big plays in the first half, the team just wasn't able to execute as much as they needed to in the second half.
During the game, Isham passed for a total of 402 yards, while the team rushed for 115 total yards.
"I think in this bye week we are going to definitely work on our run game a lot and try to get that going. I think we were lacking that in this game," Isham said.
While 29 of Isham's 53 throws went incomplete this game, McEnroe said he takes responsibility.
"We had to throw the ball so much today, it's hard to put yourself in that position… I think we sort of put (Isham) in a position where he had to throw too much," McEnroe said.
He added that considering that this is the first full game Isham has played in in a few years, a little rust was to be expected.
"We have to do a better job as coaches of calling plays that he's comfortable with… he's an excellent quarterback," McEnroe said.
While the game did not end as the team would have liked, there were many key players that Cal Lutheran fans can expect to see again this season. These include Worthley ,who received for 170 yards, Johnson, who rushed and received for a total of 57 yards, and junior wide receiver Sean Bellotti, who racked up 71 total yards.
McEnroe said that he felt Willamette simply outplayed Cal Lutheran in Saturday afternoon's game.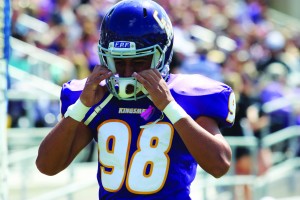 "We couldn't capitalize…(we) committed a couple pretty big turnovers and just had lapses defensively on a couple of those drives just to keep them around, so it was a lot closer of a game at halftime than we thought it should have been," McEnroe said.
The team and coaching staff are confident that they will be able to regroup and bounce back in time for the first conference game against Whittier.
"It's a young resilient team, it's a good group of guys…there are a lot of lessons that you learn through sports; some of them are great, some of them are hard to deal with, and this one is hard to swallow," McEnroe said. "The sooner that we can address it, look at the film, talk and teach, then we'll put it to bed and then we've got about two weeks to get ready for conference…to go 1-0 against Whittier."
Rachael Maurer
Staff Writer
Published September 24, 2014