Cal Lutheran gets peppy
The ASCLUG Programs Board hosted a pep rally at Rolland Stadium on Friday, Sept. 26, where fall sports teams were introduced, and students and student athletes competed in games and contests, won prizes, and got to know one another.
At the pep rally, representatives from fall sports teams on campus were called to test their skills in various challenges and competitions. Some of these included Oreo stacking and egg tossing contests, wheelbarrow races, a raffle, and blindfolded water balloon throws. There was free food, an incentive to many cafeteria-bound college students, and prizes were offered to the winners of each contest.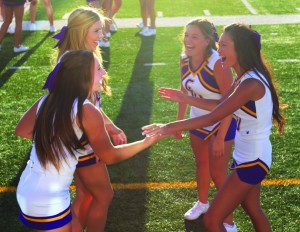 The prizes ranged from gift cards, to gift baskets containing California Lutheran University gear, to the grand raffle prize of an iPad mini.
After an opening performance by CLU's cheer team, the students were ready to be put to the test. The first event- an Oreo cookie stacking contest.
Sophomore soccer player Katelyn Kimball was the first to represent the women's soccer team, and she came out of the Oreo stacking contest with a win.
"I won the contest where we had to stack Oreos on our head, it was pretty funny… I won a $15 Starbucks gift card," Kimball said.
For the women's soccer team, the pep rally also served as an opportunity to show possible newcomers what CLU is like.
"We have the recruits with us this weekend, so it was nice to be able to bring them to [the pep rally]… they had a lot of fun," Kimball said.
The ASCLUG Programs Board director, Evan Carthen, was in charge of putting on the second annual pep rally. Carthen said the pep rally was designed in a way that the athletic teams would be interacting with other students. He explained that this would deviate from what the game plan was last year, as it would be more interactive. Carthen said that he wanted to see students and student athletes really get to know each other this time.
"Last year was more set up like showing the fans how to cheer… this year is a little bit different, [there is] more participation I think between fans and the teams," Carthen said.
Carthen explained that the pep rally was just one of many events that the Programs Board put on for CLU students.
"We run all the Club Lu events that we have on campus, so like the movie in the park this year, Monte Carlo, Mr. Kingsmen, and the Homecoming Carnival…things like that," Carthen said.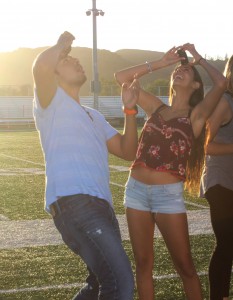 Committee Chair of the Programs Board, Desiree Staples said that she enjoys being a part of a group that provides students with an outlet to socialize and have fun things to do during the weekends.
"[Before the pep rally] The students will come and get food…We're going to play games, introduce the fall teams, and we're having a raffle," Staples said.
Both Carthen and Staples were very happy with the turnout and end result of the pep rally event.
"Everyone that came had a great time meeting the teams and playing games with the athletes," Staples said.
She explained that the food was a big hit- especially the candy table. Carthen's goal of having a more interactive event this year was a real success.
"The teams participated and really did a great job of interacting with the crowd… It went great," Carthen said.
Rachel Maurer
Staff Writer
Published October 1, 2014