Attorney general steps down
Attorney General Eric Holder announced his resignation on Sept. 25 after serving with the Obama administration for six years.
Eric Holder was an active advocate of civil rights, making him a disruptive factor in Congress. These views gained him favor with the democrats in Congress. His high popularity with the left, however, created a strong dislike from the far right.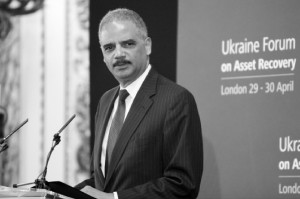 According to the National Public Radio, the Attorney General had one of the longest tenures in U.S. history, and now it was time to step down. Reasons for this decision remain unclear.
"There was maybe some subtle pressure to resign because of all these controversies, and various things going on," said Robert Meadows, a professor at California Lutheran University and Chair of the Criminal Justice and Legal Studies program.
Holder has been involved in several controversies, particularly by withholding documents from the Fast and Furious gun scandal, which carried over from the Bush administration and his failure to make any arrests over the economic downturn.
The attorney general had access to important documents pertaining to the Fast and Furious scandal yet refused to share them with congress.
"It seems to me it was kind of misplaced," said Herbert Gooch, political science professor at Cal Lutheran, "That really occurred on George Bush's watch and yet some of the scandal sort of rubbed over on the Obama administration and the point man to take care of that was the attorney general."
Despite these struggles, Holder accomplished many positive things during his tenure.
"He was more sort of the attack dog for civil rights enforcement, suing states who tried to cut back on voting rights," said Jose Marichal, a political science professor at Cal Lutheran.
"He's been very aggressive about Ferguson, about looking into any abuses by the Ferguson police department around the shooting of Michael Brown," Marichal said.
Throughout his service, Holder has actively pursued equality through civil rights. This, however, does not come by pleasing everyone. Holder has faced disapproval from Republicans, an attitude that could make finding a new attorney general difficult.
"The Republicans have every incentive to run out the clock," Marichal said. Republicans have the power to wait even as long as the next election in 2016 to approve a new Attorney General.
If the Republicans do not decide to run out the time, the next challenge will be finding a candidate to appease everyone. Holder's divisiveness creates a problem with future candidates.
"If they can get somebody affirmed, it would probably be a weak affirmation stitched together from a few republicans and a lot of democrats," Gooch said. "That person would have sort of a weak base of approval."
The next two years are likely to be unproductive ones for the next attorney general. Holder will stand until a replacement is found. If a new replacement is found and approved, the struggle will be to appease everyone, something that could only be done by a moderate attorney general.
"Being able to satisfy what people are looking for and having people think that they're going to get a fair deal out of that individual, that's going to be the challenge," said Bruce Gillies, an assistant business professor at Cal Lutheran.
Holder's resignation comes after a long tenure filled with an active pursuit of civil rights. Though this pursuit has made him a divisive figure, he has accomplished a great deal during his time, something his replacement will have a difficult time doing with such a divided congress.
Allie Leslie
Staff Writer
Published October 8, 2014