You don't have to come from a Division I, top-ranked, well-known university to make it big in life.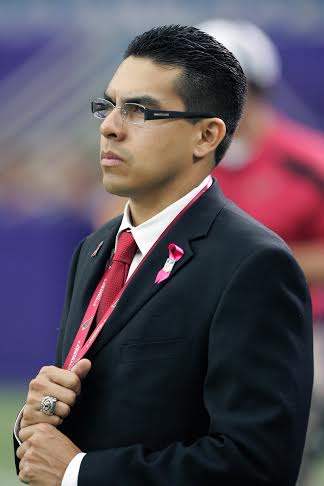 Former California Lutheran University alumnus, Orlando Avila can attest to this. After graduating from the university in 1997, hard work, dedication and drive led to Avila's career success where he eventually landed in the NFL as the senior manager of marketing and broadcast services for the Arizona Cardinals.
Avila stressed the importance of being in the right place at the right time and how you can never know just where one job might take you.
While leaving the cafeteria at Cal Lutheran one day, Avila was drawn to a huge display he saw, where there was a representative from Disney. Long story short, Avila began working for Walt Disney via Club Disney in Thousand Oaks, which was an imagination Disney-themed/inspired play area. The concept was however cut due to it not growing as anticipated.
After working with Disney for eight years, in 2005 Avila decided it was time for a change. Although he loved the branding and synergy of the Disney Company, Avila was at a point in his life where he wanted to buy a house and California's high priced real estate was a little out of reach for him at the time.
"He was a very focused student and had an outgoing personality, which always helps if you're thinking about marketing," said Russell Stockard, professor of communication and prior professor of Avila's. "He was an active learner and was very interested in applying what he learned and was a very hands on person which is something I believe served him well as a student. Obviously his willingness and eagerness to network and make contacts with others helped him both while he was here [CLU] and in his subsequent employment opportunities, so he has obviously moved nicely up the career ladder."
Avila had been accepted into an advertising master's program at California State University, Fullerton. However, he withdrew before the third week and didn't attend in order to pursue the opportunity he was given from The Walt Disney Company to be part of the new concept that first opened in Thousand Oaks known as Club Disney. Avila said he was glad he did.
"I was really excited about that because no student of mine, at that point, or any that I had heard of, had gone onto graduate school in that particular field," Stockard said.
In 2005, after a few interviews, Avila was offered a job by the Arizona Cardinals organization as a season ticket account executive. Three years later he became the manager of marketing and broadcast services and in 2011 was promoted to the senior manager position.
In working for the Arizona Cardinals, Avila's duties encompass two main areas: broadcast requirements/services and marketing. He is in charge of making sure broadcast partners are in receipt of their products as outlined in their contract with the Arizona Cardinals. In other words, he ensures broadcast networks get player appearances that are part of their contract, branding of the broadcast partner in team collateral and that specific merchandise needs are met. He is also in charge of marketing for the organization, both in preseason and during football season.
On the marketing side, Avila is responsible for brand management, and with a knack for social media, he also maintains both the team's mobile app and is an active member of the social media team that monitors all the accounts. Avila said that everything he does is about the promotion of the team and branding of the organization.
"Every day is different which I love," Avila said. "You never know what you're going to be doing next."
According to Avila, the connections you make now will be pivotal in your future. He stated how making phone calls to his contacts with the NHL Anaheim Ducks, MLB Los Angeles Angels of Anaheim and the MLB Los Angeles Dodgers were helpful in getting his name across a few desks for his current position.
"It's all about what you know, who you know, being in the right place at the right time and your personal, inner drive," Avila said. "Your resume is there to catch their attention and your interview is your chance to keep their attention and shine."
He said that working close with someone can give you an edge, continually stressing making connections, keeping your contacts and not being afraid to ask questions.
Avila stated that at the end of the day his job is to make sure the University of Phoenix Stadium is full.
He therefore stressed the importance of having to keep people and fans wanting to come back. The mobile app was created for this purpose. He said it keeps fans engaged.
Avila has to ensure that as an organization the Cardinals are providing an experience different from that fans will get at home. Second screens in the stadium, loyalty programs, food trucks and meet-and-greets outside the stadium all help enliven the experience for Cardinal fans.
The mobile app allows viewers to see replays from four different angles, as well as receive all the information announcers make available through broadcast. Avila is always coming up with new and creative ways to keep fans engaged; it's part of the job.
"New initiatives are always evolving and it's important to embrace them," Avila said.
Avila stressed how data collecting is essential to his job. He does it on both a community level through surveys sent out four times a year, hoping to ensure a non-skewed assessment, as well as on a national level via the NFL.
The NFL's "The Voice of the Fan" is a survey sent out to fans to see what they like and don't like. Avila said the Cardinals improved their monitor at the stadium, making it a high definition screen as a response to these surveys.
Avila advises students to ask questions, meet as many people as they can, get informational interviews, ask questions because they are essential, get acquainted with who's big in the field they want to enter, reach out to people to get their foot in the door, and keep up to date with everything that is currently going on. He said a lot of people, like himself, really genuinely want to help people out.
"It's just great to see our students do well out in life," Stockard said. "A lot of them are doing well while they're here so it's easy to predict who's going to do really exceptional things and I think most people are successful but some people are at the other end of the extreme, people like Orlando."
Lindsay Hunter
Copy Editor
Published October 29, 2014