Regals sweep SCIAC foes
Regals Volleyball
After their 16-game win streak was snapped, the Regals start a new streak defeating Redlands and Chapman before their playoff stretch begins.
California Lutheran University's volleyball team swept the visiting Redlands Bulldogs on Oct. 24. Fans in Gilbert Arena were draped in pink to support awareness for breast cancer.
Cal Lutheran entered the game coming off their first conference loss in over two years. A streak of 37 straight Southern California Intercollegiate Athletic Conference wins was snapped by Claremont-Mudd Scripps in a thrilling five set match.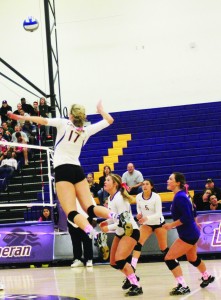 The Regals looked to rebound and start a new streak against rival Redlands. Cal Lutheran won all three games by scores of 25-17, 25-14 and 25-19. The Bulldogs put up a fight, but were unable to defeat the Regals, who proved to be the superior team that night.
In the first set, Regals pushed their lead to as many as six points. Junior outside hitter Allie Eason was able to get in seven of her 11 total kills in the first set, leading Regals to the 25-17 victory.
During the second set, tensions rose as the Regals were locked in a 9-9 tie. However the Regals were able to rally and put some quality points together and turn it into a 16-10 advantage.
The crushed Bulldogs were only able to get in a modest four points the rest of the game as the Regals won the second set 25-14.
The Regals took the momentum into the deciding third set to finish the match and left the Bulldogs whimpering back to Redlands.
Along with Eason, sophomore outside hitter Michelle Lawrence had 11 kills, sophomore middle blocker Sarah Pappas had nine kills, while junior right side hitter Pua Mo'okini-Oliveira had six kills.
Present throughout the entire match was the Regals' stifling defense. Senior setter Kennedy Peters attributed their strong defense to their hard work during practice.
"Our blocking and our defense are something we work extremely hard on and it always seems to be a consistent strength during each match," Peters said.
Peters said they had some weaknesses particularly when the offense was not working to its full potential.
"Some parts of our offense weren't working as best as it could, but it's ok because it gives us stuff to work on in practice on Monday," Peters said.
Peters said she has the recipe for how the already successful team can get even better.
"I think we need to focus on just getting a little bit better each day in practice. We obviously aren't going to be making huge strides every day in practice this late in the season but if we just get one percent better every day we are going to be unstoppable," Peters said.
Cal Lutheran Senior Maika Urasaki is a former high school volleyball player and avid fan. She was impressed by the Regals after witnessing the victory over the Bulldogs.
"They are really good at defense and played a technically very impressive game," Urasaki said.
Urasaki pointed out freshman outside hitter Hope Stewart who was able to serve for eight consecutive points, which included a pair of service aces.
"That was some impressive skills," Urasaki said.
Urasaki brought her friend Cesar Reyes, who saw his first volleyball game just a few weeks ago.
"It was a very exciting game, because at several points during the game, it was a tie," Reyes said.
Reyes said he was impressed by how determined the Regals were to win.
"It seems like they train hard to be this good. They were good on both offense and defense I thought", Reyes said.
The next day Regals travelled to Chapman University where they defeated the Panthers by scores of 25-27, 25-19, 25-22 and 25-20.
After dropping a close first set, the Regals were able to come back strong and win the next three sets to seal the victory.
Leading the way for Cal Lutheran was sophomore outside hitter Michelle Lawrence with 16 kills. Eason also contributed with 14 kills of her own.
With the two wins over the weekend, the Regals improve to 23-2 overall and 12-1 in SCIAC play.
The Regals are coming up on the final stretch of the regular season as they prepare to take on the postseason and make a return to the national championships in Newport News, Virginia.
Karl Kleppe
Staff Writer
Published October 29, 2014