Runway models for charity
On Oct. 30, a team of California Lutheran University resident assistants hosted the Lee Denim Day Men's Fashion Show in the Lundring Events Center to show support and raise funds for breast cancer awareness.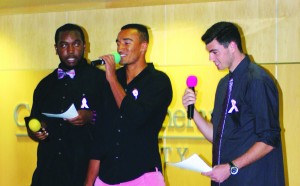 The team of RAs was headed by RA, Jaynessa Lopez who said she wanted to support the fight against breast cancer. Lopez had a personal interest in the event.
"I decided to look into breast cancer awareness because I have a lot of family members that are survivors from cancer," Lopez said.
Lopez, the other RAs and the models sported pink outfits and pink ribbons in support of the cause.
This was the second year that Lopez put on the fashion show.
"I decided to start this fashion show last year… It was very successful and we raised about $230. For an on-campus event with college students, that's awesome. I wanted to do it again this year to raise more awareness for breast cancer support," Lopez said.
She explained that she got the idea for the fashion show when she was searching online and came across Lee National Denim Day.
"Lee Denim made this day that they dedicate for proceeds and awareness for research via The American Cancer Society," Lopez said.
Jamell Dorton, who is an RA in South Hall, said he got involved with the event when Lopez proposed the idea to the RAs last year.
"I thought it was a great way to bring people together and have a good time, but also for a good cause. We had a good turn out last year so we decided we should probably do it again this year," Dorton said.
Dorton said the RAs had each model fill out a survey that would be read while their song of choice was played as they made their way down the runway.
Cal Lutheran students sang along with fellow students Natalie Kalamdaryan and Austin Linkous as they performed during the show. Kalamdaryan sang while Linkous played the guitar.
During the break from the runway, the audience members had an opportunity to win a raffle prize of a Target gift card. A Starbucks gift card was also raffled off at the end of the show.
During the show, male students played the role of models for the night as they walked, posed and danced their way down the runway.
One of the models was Justin Meek. Meek, who is a freshman Cal Lutheran student, said he was recruited by Dorton, who is an RA in his building, and agreed to walk in the show.
It was not Meek's first time walking down a runway. He said he used to model professionally and his plan was to "just go with it."
"Jamell told me about the show and I saw posters around. I wanted to do it because it's for a really good cause," Meek said.
Meek and the other models strutted their stuff after emcees provided information about breast cancer to the audience. They also asked for a moment of silence to honor both those who had lost their battles with cancer and those still fighting.
All in all, Lopez said she felt the event was a success. Many students came out to have a good laugh and support a worthy cause.
Rachael Maurer
Staff Writer
Published November 5, 2014