'Stretch your ears,' Cal Lutheran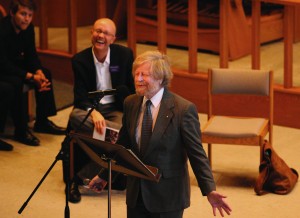 On Nov. 5, renowned music composer Morten Lauridsen spoke to California Lutheran University about his music and performed with Cal Lutheran's choral ensembles and the Areté Vocal Ensemble.
Dr. Wyant Morton, the director of choral and vocal activities at Cal Lutheran, conducted all of the pieces, while Lauridsen played the piano. Morton said the talk and performance exceeded his expectations.
"He [Lauridsen] was very gracious, very kind, very complimentary and just a nice person all around," Morton said.
According to the handout passed out to the audience, Lauridsen received the National Medal of the Arts and has been a professor at the University of Southern California for over 40 years.
He said he first attended Whitman College and then transferred to University of Southern California, but before he found his passion in music he was a forest firefighter.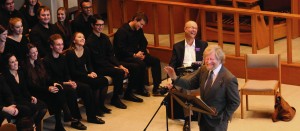 "As a junior in college, wanting to be a part of the composition department at USC, I had never written a note of music," Lauridsen said.
He said the chair of the department looked at him like he had lost his mind but the chair gave in, allowing Lauridsen to take an introduction to composition class as a trial run.
Many of Lauridsen's compositions are based off of poems.
"I bathe my life in poetry. I read every day," Lauridsen said.
He extends poetry not only to his daily life and to his compositions but also to his students.
"Every class I teach at USC starts with a poem," Lauridsen said.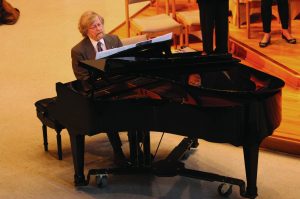 Lauridsen said his compositions "Dirait-on" and "Prayer" are based on poems by Rainer Maria Rilke and Dana Gioia respectively.
His other pieces performed in the show ranged from a cabaret to a blues inspired piece in which Lauridsen asked the audience to "stretch your ears."
This year's freshman seminar class studied Lauridsen's music. Rebecca Callahan, a freshman majoring in psychology, and Alicia Spadaro, a freshman majoring in education, both attended the performance.
"I was really inspired. I used to play piano and he made me want to play again," Spadaro said.
Callahan said studying music instead of a book or article was a refreshing experience.
"It was really interesting studying a piece of music and then seeing a live performance of it," Callahan said.
Spadaro also said seeing the composer and hearing him talk about his life was great.
"It was cool to see him there because you rarely get to see the composer," Spadaro said.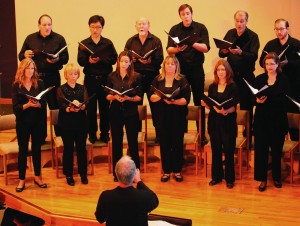 Along those same lines, Carmen Garcia, a senior majoring in vocal performance and music education and a member of the Cal Lutheran choir, said meeting Lauridsen made him more than just a well-known name.
"Meeting him was so surreal because he becomes such a real person," Garcia said.
Garcia said she, along with several other students and faculty, had dinner with Lauridsen, during which he shared stories and gave advice to aspiring artists.
"He told us that with careers in music, you're going to have rejection but it is important to persevere no matter the rejection you receive," Garcia said.
The Cal Lutheran choir had been practicing Lauridsen's songs for five hours a week since September. Garcia said the choir had 15 minutes to rehearse in front of Lauridsen before the performance and he described their rehearsal as "flawless."
"The singers worked really hard and having the composer here created an amazing experience for them," Morton said.
Morton said he was pleased with the turnout.
"It was great having so many CLU students at the concert. Although it was a requirement, it seemed like the students really enjoyed it. They were very attentive and engaged," Morton said.
Julie Griffin
Staff Writer
Photos by Isabella Del Mese – Photo Editor
Published November 12, 2014