Arik Smith: Finishing with a Bang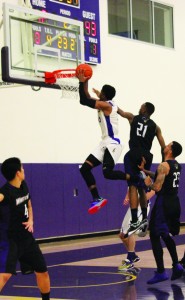 After transferring from University of Wisconsin—River Falls last year, senior guard Arik Smith has enjoyed success in a Kingsmen uniform.
The Bakersfield native was awarded with a first team All-Southern California Intercollegiate Athletic Conference honor last season after leading the Kingsmen in scoring, averaging 16.8 points a game, which was fifth best in the conference according to clusports.com.
This season the senior guard is outdoing himself from last year averaging 19.3 points per game with the playoffs right around the corner.
Kingsmen head coach Rich Rider elected Smith team captain at the beginning of the season.
"My role is to be a leader. That's on and off the court. I've always been a lead by example type of leader, rather than a vocal one. I guess I've done an ok job thus far," Smith said.
The coaching staff has noticed Smith's leadership skills develop.
"He's really improved his leadership by example. Improving his competitive nature on every play," assistant coach Geoff Dains said in an email interview.
As captain, Smith has been able to lead the Kingsmen to a 17-6 record and a Thrivent Financial Tournament championship, which was good enough to be tied for first place in the conference as of Feb. 23.
On and off the court Smith has enjoyed his time at Cal Lutheran.
"This school has grown on me a lot in the past two years. I have built life-long friendships here at CLU and I have been fortunate enough to experience places I have never been to, like Hawaii and Costa Rica. The memories this place has given me are unforgettable," Smith said.
With his senior year coming to an end in May, Smith is trying to make every minute with his teammates last.
"The basketball program is like my second family. I spend the majority of my time with my teammates. We workout, practice and hangout together every single day. I wouldn't want to spend my time any other way," Smith said. "The bus rides and trips are a lot of fun. It's just crazy to think that soon I will no longer be able to do those things with them anymore."
However, even though Smith's collegiate career is coming to end this year, he says he would love the opportunity to keep playing basketball.
"My plan is to continue playing basketball. I would like to play in another country, doesn't matter where I just want to experience that for as long as I can," Smith said.
Gianna DiBacco, a member of the women's basketball team said that he has put together a strong season through his work ethic.
"You can tell by his intensity on the court that he is giving his all each time he steps on the court," DiBacco said. 
Smith has high expectations for himself along with his team.
"I made a goal for myself that before I'm done playing I want to become an All-American," Smith said.
With the numbers he is putting up this season, being an All-American might not be out of the question.
The Kingsmen will enter the SCIAC postseason tournament after playing their last conference game on Feb. 24 at Occidental College. Stay tuned to clusports.com for more details about the postseason tournament.
Connor Sipes
Staff Writer
Published February 25th, 2015